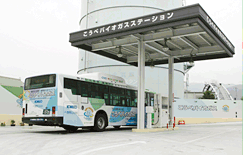 Copyright Kobelco Eco-Solutions Co.
Major Japanese gas supplier Osaka Gas Co., Kobe City in western Japan and Kobelco Eco-Solutions Co., announced on October 19, 2009, that they would jointly start a test project to purify biogas generated in a sewage treatment plant to the level of city gas, and to feed the gas directly through gas pipes. The project is slated to start in fiscal 2010 and is the first attempt of its kind in Japan. The group plans to produce approximately 800,000 cubic meters of biogas per year, which will cover about 2,000 households' annual usage of gas and will reduce carbon dioxide emissions by roughly 1,200 tons.
Biogas is a combustible gas which is composed mostly of methane generated from sewage sludge or food residue. Being a carbon-neutral renewable energy, the biogas is expected to be used effectively as one of the measures to curb global warming. However, the biogas from sewage sludge treatment has had limited use because it is low in calories and contains impurities. Kobe City and Kobelco Eco-Solutions Co. have been working to purify the biogas produced from the Higashinada Sewage Treatment Plant in Kobe City, and have succeeded at providing the gas for use in natural gas vehicles. They started to sell the gas named "Kobe Biogas" to city buses and commercial trucks beginning in April 2008.
This project is intended to increase the use of Kobe Biogas. The Higashinada Plant installed equipment for adjusting calories and eliminating minor constituents, purifying the biogas generated in the plant to a level similar to that of city gas supplied by Osaka Gas Co., providing the biogas as city gas to the Osaka Gas customers directly through gas pipes.
Bio-Methane from Sewage Sludge to Be Used as Bus Fuel (Related JFS article)
http://www.japanfs.org/en/pages/026319.html
Tokyo Gas Starts Purchasing Biogas (Related JFS article)
http://www.japanfs.org/en/pages/027120.html
Osaka Gas Co. official website
http://www.osakagas.co.jp/indexe.html
Posted: 2010/02/03 06:00:15 AM