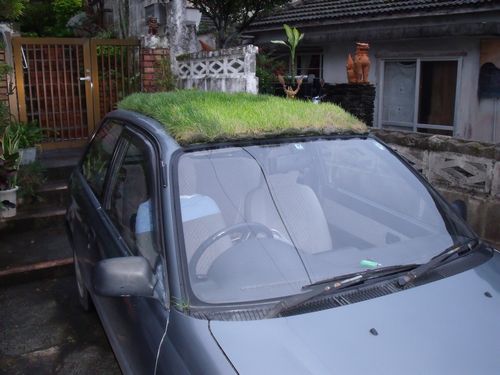 Copyright Mitsuji Chinen

Mr. Mitsuji Chinen of Naha-city, Okinawa, successfully grew grass on his car roof, maintaining a comfortable interior temperature without using the air-conditioner even in summer. The idea occurred to him in 2007 when his car's air-conditioner broke down and he needed to do something to keep the car cool. Since his mother dislikes air-conditioning, he decided to create a condition similar to tree shade. The solution he came up with, which he thought would be both aesthetic and ecological, was to make a garden on his car roof, and he chose grass for a charming look.
From the following year, 2008, he started experimenting with several types of lawn seeds, but it was a process of repeated trial and error. The lawn seeds were once washed away by heavy rain, and the lawn bed was blown off the car roof another time. In the summer, his car roof-top lawn needed to be watered three to four times a day, for which he sometimes had to stop at a gas station. The lawn bed consisted of an anticorrosion layer, insulation, a water retaining diaper sheet and coconut fibers. The most difficult part of this system was how to fix the lawn bed on the car roof.
His "lawn car" attracted more attention than he had expected, and he was delighted when children cheered at the sight of his car. After being featured in The Ryukyu Shimpo, a local newspaper, on November 30, 2008, his car was spotlighted on a domestic TV program called "Nanikore Chinhyakkei, "meaning "What a Rare Sight!," and in 2009, he made news in other countries including Brazil, Mexico, Italy, Romania, and Middle Eastern countries. He comments that it is fascinating to see what he started as a fun experiment is gaining global exposure.
His car is back to normal, for the lawn bed has come off the car roof. Although he admits he is more at ease now that his car no longer stands out, he is also looking forward to his next experiment with a flowerbed on the roof of his car.
Posted: 2010/01/29 06:00:15 AM