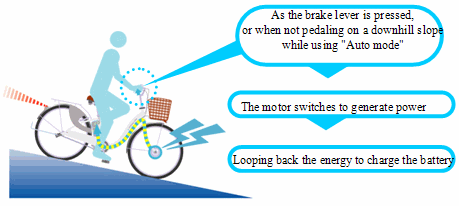 Copyright Sanyo Electric Co.

Japan's consumer electronics manufacturer Sanyo Electric Co. released on February 2009, the "eneloop bike", a new electric hybrid bicycle with a regenerative charging function. The bike uses the assist motor as a generator during braking and downhill riding to generate electricity and charge the battery. Utilizing kinetic energy during movement, the eneloop bike, which is designed to conform to the newest standards, achieves a longer cruising distance than previous models.
The Road Traffic Law revised on December 1, 2008, by the Cabinet Office Ordinance, doubled the maximum assist ratio (ratio of motor drive force to human power) from the previous 1:1 to 1:2 for power-assisted bikes, which fall under the regular bicycle category in Japan
In line with new standards, the eneloop bike with higher power assist function detects various road conditions and automatically adjusts power assistance and regenerative charging accordingly. With its auxiliary charging while riding, the bike provides an increase of riding distance of up to 1.8 times compared to the non-recharge mode (based on Sanyo's standard running patterns). The system also decreases the number of times the battery needs to be charged with a dedicated charger.
Electric bicycles are drawing attention for being economical, emissions-free, and environmentally friendly. Domestic shipments almost doubled in 2007 with some 283,000 units more than in 2000, with cumulative shipments to date amounting to more than 2 million.
- SANYO Announces the "eneloop bike" Electric Hybrid Bicycle
http://sanyo.com/news/2008/12/01-1.html
Posted: 2009/03/19 06:00:15 AM