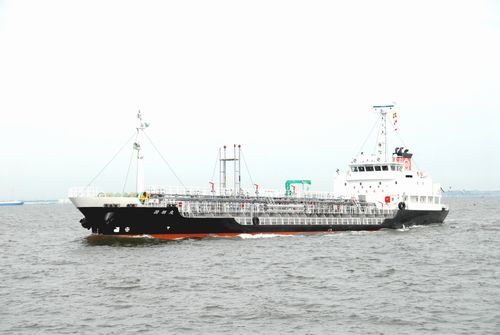 Copyright The Japan Railway Construction, Transport and Technology Agency
The Japan Railway Construction, Transport and Technology Agency (JRTT) announced July 11, 2008, the completion of the Kokuho-maru, a 1,000-ton transport ship that uses electric propulsion to reduce fuel costs and emissions. Suzuki Shipyard Co. finished construction of the 2,500-cubic meter chemical tanker on June 30, in the city of Yokkaichi, Mie Prefecture, and the ship's joint owner with the JRTT, Kokuka Sangyo Co., now operates it in the transport of chemical commodities.
It was developed using new design technology such as an optimized shape and contra-rotating propellers to improve propulsion efficiency. Also, instead of one large conventional diesel generator, the vessel uses three compact diesel generators and two electric motors for propulsion. This new system makes it possible to optimize its use of electric generators as needed. Thus, it saves energy and operates safely with multiple engines even if one of the electric motors is not working.
According to the results of the ship's sea trial, fuel use and costs are 15 percent lower compared to a conventional ship. Its effects on the environment are also reduced by approximately 15 percent in carbon dioxide emissions, 30 percent in nitrogen oxide emissions, and 15 percent in sulfur oxide emissions. The smaller-sized main engines also mean a reduction in engine noise.
http://www.jrtt.go.jp/news/news_english.htm
http://www.kokuka.co.jp/english/greeting.html
Posted: 2008/10/19 11:16:15 PM