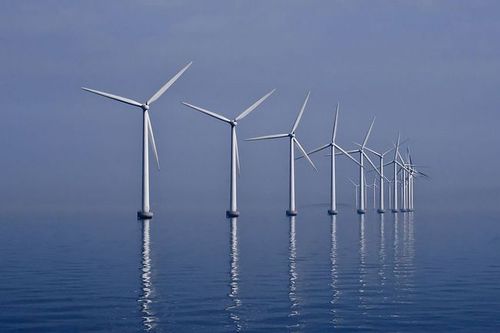 Image by Kim Hansen Some Rights Reserved.
Projects are underway to construct offshore wind farms at three sites off the coast of Akita Prefecture, northern Japan. Wind power has been expanding on land, too, while a number of projects to develop geothermal and biomass power generation have been similarly gaining momentum. The following is a report about a plan to double installed renewable energy capacity over the next 10 years. This article is reproduced in an edited form with permission from Smart Japan, an online media services provider specializing in energy conservation, storage, and generation.
Japan's offshore wind power generation has finally come to the stage at which several wind farms will be seen on Japanese waters quite soon. In particular, large-scale projects are underway in offshore areas near Akita Prefecture's west coast. Two ongoing projects are those at Akita Port and Noshiro Port, which each involve constructing at least ten large wind turbines near land in shallow waters no deeper than 30 meters .
Both ports are located in areas that Akita Prefecture designated for renewable energy expansion, with no fishery rights established. In the waters off Noshiro Port, 16 to 20 large wind turbines will be installed in an area of 5.6 square kilometers, yielding a projected maximum capacity of 100 megawatts (MW). In the case of Akita Port, 11 to 14 large turbines will be installed offshore in a 3.3 square kilometer area, and the projected maximum capacity is 70 MW.
If all goes smoothly, construction will start in 2018 in these two areas, and operation of the wind farms will start in 2021-2022. With an annual average wind velocity exceeding seven meters per second, the areas offshore Noshiro Port and Akita Port are among the best spots for wind power generation in Japan. A capacity factor of about 30 percent can be expected for these wind generation farms.
With a combined maximum capacity of 170 MW, the two farms are expected to generate 447 million kilowatt-hours of power per year. This amount would cover the utility consumption of 120 thousand ordinary households, equal to the amount consumed by 30 percent of all households in Akita Prefecture.
In addition, planning has begun on another project to construct a far larger-scale offshore wind farm at a site between Noshiro and Akita Ports. The project aims to develop an offshore wind farm with a maximum capacity of 455 MW. When completed, it would supply more than the amount of power needed by 80 percent of all households in Akita Prefecture.
This farm will also be constructed off the coast of Akita Prefecture in an area spanning 49 square kilometers. The depth of the area is within 30 meters, so the facilities may be constructed using the bottom-mounted system. The turbines will number between 75 and 120. In March 2016, the project started the procedures for Environmental Impact Assessment, and began the process of getting local agreement and permission from the national government.
While the development of offshore wind farms continues in rapid succession, onshore wind farms are also starting operations one after another. The largest-scale farm to begin operation is Eurus Yurikogen Wind Farm, which started operating in December 2015.
Eurus Yurikogen Wind Farm has 17 wind turbines installed on a plateau, and each has a capacity of 3 MW, yielding a capacity of 51 MW in total. The amount of power generated per year equals the amount of power consumed by 30,000 ordinary households. In other words, the farm can provide enough power for all the households in Yurihonjo City, of the prefecture where the wind farm is located.
Akita Prefecture has launched an initiative to create new industries utilizing local energy resources such as wind power since fiscal 2016. The initiative aims to double installed power generation capacity from renewables over the next 10 years. The prefecture intends to enthusiastically expand generation of power from geothermal heat and biomass, in addition to power from wind and solar.
Targeting the areas around and in Yuzawa City, a famous hot springs spot located in south Akita Prefecture, several projects are underway to develop geothermal power generation. Here in Yuzawa, the Uenotai Geothermal Power Plant has been operating since 1998, with a capacity of 29 MW. The capacity factor of the plant is high, hitting 70 percent, standardized.
Plans are underway to construct geothermal power plants at three sites surrounding the Uenotai plant. The project farthest along is development of the Wasabisawa geothermal power plant. In addition to three production facilities for taking in steam and hot water from underground, two return facilities will be constructed around the production facilities to return hot water remaining after power generation to the ground in order to reduce the environmental impact.
Development of biomass power generation takes less time compared to geothermal power generation. In Kitaakita City located in north Akita Prefecture, a new method of biomass generation is getting underway. The plan is to install a woody biomass power generation device made in Finland into a roadside market selling local products, with the goal of local production and consumption of renewable energy.
Akita City will also start an initiative to generate power using biogas at waste disposal facilities in the city. The initiative will collect food waste from local hotels and restaurants, and will generate power by producing biogas from the food waste through a methane fermentation process.
Source: Smart Japan (in Japanese)