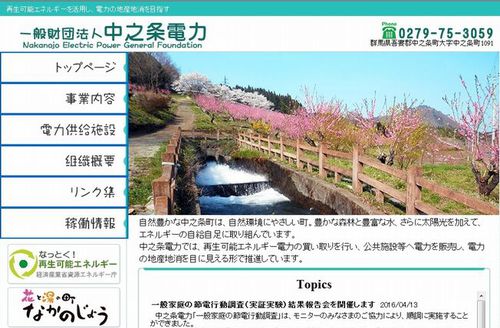 Nakanojo Electric Power General Foundation website
A new movement is spreading across Japan that could change the country's existing energy market structure, which places electric power companies at the top. Local governments--municipalities and prefectures--are taking the initiative to increase local production of renewal energy while simultaneously building up a self-sustaining energy system that makes it possible to consume that renewable energy locally. Below we share a report about local energy production and consumption efforts in Japan. This article is reprinted with permission from Smart Japan, an online media services provider specializing in energy conservation, storage, and generation.
Japanese municipalities, about 1,700 across the nation, all face the same pressing issue: economic revitalization. Aiming to rebuild and breath new life into their communities, many municipalities are moving forward on projects to promote local production and consumption of renewable energy. Within this movement, an increasing number of municipalities have even started, or plan to start, operating their own electricity retail business.
Tottori City in western Japan is one such municipality. In August 2015 it established a new power retail company, Tottori Citizen Electricity Co., in partnership with Tottori Gas Co. The following December, it founded the company Tottori Environment and Energy Alliance with six local companies to support power generation businesses that use renewable energy. The goal is to build a regional energy supply system that is more resilient to disasters while creating new employment through expansion of the power generation and retail sector. To maximize economic impact, the city also plans to include resources and capital as well as energy in this circulatory system.
Miyama City in Fukuoka Prefecture launched its own electricity retail business in April 2015. It has established the company Miyama Smart Energy through joint investment with other parties, including a regional bank. The business started by supplying power to 32 public facilities such as the city office and public schools and is now broadening its service area.
The company has begun buying electricity from small-scale solar power facilities with an output under 50 kilowatts at a cost one yen (a little less than one U.S. cent) higher than that of Japan's renewable energy feed-in-tariff (FIT) scheme. While encouraging citizens to introduce their own renewable energy generation systems, it is also making effective use of local energy during peak consumption times in the summer.
Miyama Smart Energy plans to invest the profits into local industries such as agriculture, forestry, and tourism. For customers, it provides services like an elderly-watch service and a health-check service using electricity consumption, room temperature, and humidity data.
Nakanojo Town in Gunma Prefecture was the first municipality in Japan to enter the electricity retail market. News that a small town with a population of 17,000 established Nakanojo Electric Power General Foundation in August 2013 attracted a lot of attention. Nakanojo Electric Power operates its business jointly with V-Power, a Japanese power retail company mainly dealing in renewable energy. The company is especially focused on developing and procuring solar power. It buys electricity from three megawatt-scale solar power plants operating in the town and supplies the power to public facilities such as the town office.
Izumisano City in Osaka Prefecture has also launched a solar power retail in which it distributes electricity from nearby power stations to public facilities in the city. Izumisano Electric Power, co-founded by the city and newly established private power companies, became the first power supplier owned by a local government to complete its registration as an electricity retailer.
As of the end of December 2015, there were two electricity retailers with equity stakes from local governments in Japan: Izumisano Electric Power (mentioned above), and Maniwa Bio Energy Co., which is owned by Maniwa City in Okayama Prefecture. The latter utilizes large amounts of wood residues from forests and left-over wood from lumber mills to supply fuel for wood biomass boilers to enterprises in the city.
Maniwa City began operating the Maniwa Biomass Power plant in April 2015. The plant can supply electricity for 22,000 households annually. Under its biomass industrial town initiative, the city working to develop a new biomass industry, with forestry and lumber industries at the core.
In addition to local private companies, an increasing number of large companies in the energy sector are also participating in local power retail projects. With investments from NTT Facilities Inc. and NEC Capital Solutions Ltd., Hamamatsu City in Shizuoka Prefecture established Hamamatsu New Electric Power Co. in October 2015. The company plans to purchase electricity from large-scale solar power systems and waste disposal facilities in the city and supply it to public facilities, private companies, and households. NTT Facilities will take charge of supply and demand control throughout the area.
NTT Facilities, which operates large-scale solar power plants across Japan, has concluded an agreement with the government of Kitakami City in Iwate Prefecture and launched a power retail business there. Kitakami New Electric Power Ltd., founded in the city, procures electricity from large-scale solar power plants and micro-hydro power generation facilities and supplies it to the city government's office and local disaster-preparedness facilities.
Prefectures are also beginning to participate in power retail projects. Kanagawa Prefecture has signed an agreement with Shonan Power Co., which has launched a power retail business mainly in the Shonan area of the prefecture. The company will be subsidized by the prefecture to purchase electricity from solar and other power facilities operating in the prefecture.
Yamanashi Prefecture, in collaboration with Tokyo Electric Power Co., has launched a new project to promote local consumption of locally produced renewable energy and also attract businesses from other prefectures. The prefecture and the company intend to supply power generated by a prefectural hydroelectric power plant to companies at an inexpensive price through Yamanashi Power, a new power supply brand co-established by the two entities. Target purchasers are not only small- and medium-sized enterprises in the prefecture but also large companies planning to expand business into the prefecture. Yamanashi Prefecture will preferentially select companies that match its industry promotion goals, so as to develop industry that uses renewable energy.
Such efforts between government entities and the private sector to advance local consumption of locally produced energy are expected to become even more active in April 2016 when the electricity retail market will become fully liberalized.