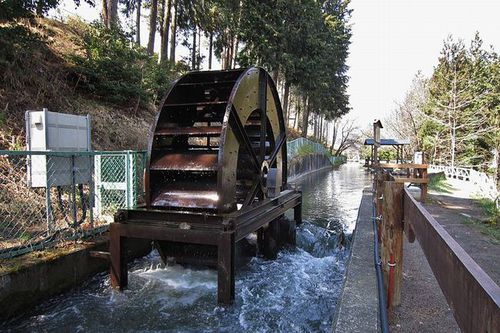 Image by Qurren Some Rights Reserved.
Nagano Prefecture of Japan announced in November 2014 that the power generation capacity in the prefecture using renewable energy sources more than doubled in fiscal 2013 compared to fiscal 2012 levels, thanks to the Feed-in Tariff (FIT) scheme and a wider use of renewable energy sources. As a result, the fiscal 2013 energy self-sufficiency rate reached 70.0 percent in terms of power generation capacity.
Reaffirming that the prefecture is indeed facing a turning point, exemplified by the decreasing population and maturing economy, Nagano Prefecture is implementing a 5-year plan known as the "Happy Shinshu Creation Plan," which was started in fiscal 2013 to realize a vision advocated by residents for the future of the Shinshu region. One of the 5-year plan's basic policies is to create a self-sufficient region in terms of the environment and energy, by using the geographical features and wisdom of the prefecture. To this end, residents are participating in various ongoing initiatives. In fact, the prefecture attained its goal of a 70.0 percent energy self-sufficiency rate four years ahead of the fiscal 2017 target.
According to a categorical breakdown by renewable type of generation capacity in fiscal 2013 compared to fiscal 2012, solar power generation more than doubled to 427,000 kilowatts, small-scale hydroelectric power generation expanded from 300 to 700 kilowatts, and biomass/waste power generation grew from 5800 to 7500 kilowatts.
Examples of Specific Projects Being Implemented
Shinshu Local Energy Production and Consumption Project
This project is primarily being implemented by a "new public sector" consisting of various regional organizations to develop and construct a model for local renewable energy production and consumption, with the goals being sustainable regional development and the spread of renewable energy products. Model programs revitalizing the regional economy have used local manpower, materials and funding. One of such programs is called the Ohisama Zero Yen System Program. In this program, Ohisama Shimpo Energy raises funds by receiving investments from residents, and Social Energy Co. hires photovoltaic panel installers to install photovoltaic systems on homes in the Matsumoto area. Consequently, this program enables residents to install photovoltaic power generation systems on their homes with zero initial investment requirements.
Ohisama Bunch-of-Sun Mega-Solar Project
In this project, the prefecture leases the roof space of prefecturally owned facilities to a local project operator to operate rooftop photovoltaic power generation systems. The project helps to utilize the unused space on prefectural facilities, to secure a new income source for the prefecture, and to effectively spread renewable energy and revitalize the local economy.
One Renewable Energy Project per Community
This project is designed to stimulate the local economy by encouraging communities to take advantage of rich natural resources for community development, and to promote renewable energy businesses. For example, Tokiwakan, a hotel in Hishino hot springs resort in Komoro City, introduced a firewood boiler in 2007 as its auxiliary heat source, which covers about a third of the hot water supplied to kitchens, baths and guest rooms. The hotel also achieved a 35 percent reduction in its carbon dioxide emissions and cut operating costs after introducing the boiler.
Furthermore, Nagano Prefecture is promoting the installation of mini-hydro systems in irrigation canals. A survey released by the prefecture on July 18, 2014, identified 164 of the surveyed major irrigation canals as potential sites for mini-hydropower generation, estimating total capacity at 25,727 kilowatts, which is equivalent to the electricity consumption of about 40,000 households.
In addition, the prefecture offers a program to support energy saving in households. Under this program, energy suppliers such as electric and gas companies advise residents on possible energy-saving measures when they visit for maintenance, inspection and other services. So far, 7,115 households have taken advantage of this program.
Nagano Prefecture is involved in various other programs to promote the use of renewable energy sources. JFS will continue to pay attention to the prefecture's initiatives that turn challenges into opportunities.