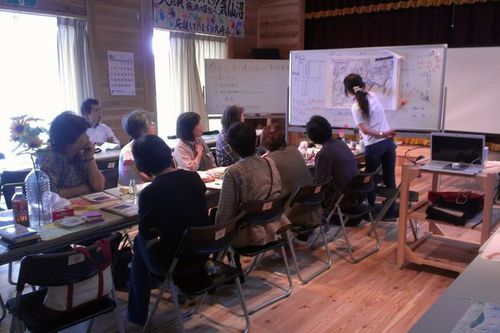 Copyright Ocean, Future! All Rights Reserved.
Tohoku Fukko Nikki (Tohoku Reconstruction Diary) is a weekly article that appears in the Tokyo Shimbun, a daily newspaper published in the Tokyo Metropolitan Area, and delivers news and stories on the reconstruction efforts in areas devastated by the Great East Japan Earthquake in March 2011. The articles are submitted by JKSK Empowering Women Empowering Society, a certified non-profit organization, describing an initiative dubbed the "Yui-Yui Project," which supports disaster victims. Here, we present an article published on October 9, 2015, featuring citizens' efforts to raise disaster prevention awareness.
It was surprising that the recent earthquake in Chile claimed only 13 lives, two of which were killed in the subsequent tsunami, while the evacuees totaled one million. The Chile government appears to place more emphasis on evacuation of residents than on building coastal levees. In fact, they carry out drills so frequently that it is a part of daily life for all Chileans. This would explain the above figures.
In the Great East Japan Earthquake, the survivors were those who acted on life-saving skills passed down for generations, who had routinely participated in evacuation drills and who had simulated disasters to ensure they knew what to do when the time came. These cases reaffirm the notion that whatever the disaster, only you are capable of saving your own life.
The most important thing is protecting lives against tsunami or other disasters, and the Chile government's measures focus on this. Whether you can make a split-second decision that save your life depends on how ingrained your defensive behavior is.
We have been hosting women's workshops called "Ocean, Future!", focusing on disaster prevention, and the July 12 workshop held in Kesennuma City, Miyagi Prefecture in 2014, concluded that we need escape roads, not giant coastal levees. It led to a petition campaign with support from a group working on the coastal levee issue, and collected 5100 signatures, which have been submitted to the Diet by an elected representative.
Survivors are most likely to say that escape roads are the best way to protect their family members, friends and colleagues in the event of a tsunami or other disasters.
In order to make evacuation a routine behavior, residents first need to think about their own escape routes. Next, the local administration should encourage evacuation and reconsider how evacuation orders are issued. The priority should be placed on raising citizen survival awareness, rather than on levee construction or other public work-based risk management strategies. Planning for construction of walls and levees should come later.
What we need is an evacuation measure that saves lives without fail. The petition was discussed in the Diet session on September 24, 2015 but has since been stalled. The bottom line is that we, citizens, must do our job, and the Diet must also be truly committed to do their part.
Michiko Ohta
Chief
Ishinomaki Terakoya NPO Community Center
Ocean, Future!