JFS Newsletter No.133 (September 2013)

In the winter of 2012-2013, a serious air pollution event in China also became a major concern for people in Japan, because they worried about reports that hazardous particulate matter measuring smaller than 2.5 microns (called PM2.5) was drifting across the sea in the winds from China that could damage their health. We, Japan for Sustainability, have also received many inquiries from abroad regarding how Japan is contributing to solving China's pollution problems.
In this issue, we feature an excerpt from an article by Tohoku University's Professor Jusen Asuka, titled "Sino-Japan Collaboration [on] Air Pollution in China," published in the journal "Kankyo to Kogai" (Environment and Pollution) Vol. 43, No. 1 by Iwanami Shoten Publishers in July 2013.
------------------------
Current State of Air Pollution in China
Many large cities in China suffer from smog that contains PM2.5-sized air pollutants. For example, the concentration of PM2.5 levels exceeded over 700 micrograms per cubic meter at many observation points in Beijing on January 12, 2013. This is about ten times higher than China's environmental regulatory limit and about 20 times higher than Japan's.
The following were identified as the two major causes of recent air pollution events in China, especially in megacities such as Beijing.
The first reason is that atmospheric conditions (for example, in Beijing) were quite stable, with weak vertical air currents in the winter of 2012-2013, when the air pollution problem began receiving widespread public attention. Stable air tends to hamper air exchanges between the boundary layer and upper layer, and leads to the formation of fog and smog. Though such smog was already a problem in Beijing, this winter had unusually long periods of smoggy days than in normal years.
The second reason is the very high concentration of aerosol pollutants (composed of PM, sulfate ions, nitrate ions, ammonium ions, etc.) in the air that exceeded the standard limit. Most aerosols come from human economic and daily life activities, including the burning of fossil fuels such as coal and oil, industrial processes, construction activities, and food cooking.

Necessary Measures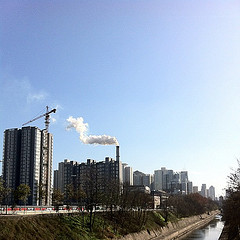 Image by julyhaze.
Some Rights Reserved.
The fundamental cause embedded in the air pollution problem is that the current energy mix is dependent on fossil fuels and unsustainable development patterns -- a common issue among international communities -- and there is no instant solution.
The Chinese government has taken various actions to reduce air pollution, such as closing outdated factories, relocating heavily polluting facilities, promoting the use of renewable energy, and regulating the number of cars on the road in mega-cities. China's population control policy, started 30 years ago, has also contributed to the abatement of pollutant emissions. Moreover, the household registration system that restricts rural-to-urban migration was thought to have a great effect on environmental conservation. Therefore, it is not accurate to say the Chinese government has not taken any countermeasures, though there is controversy over its undemocratic policies.
Such measures actually achieved results by bringing about blue skies during the Beijing Olympic Games in 2008. Specific measures included banning cars on alternate days depending on whether their number plates ended in odd or even numbers during the period. This traffic control measure contributed to reducing the number of vehicles on the roads by 40 percent. At the same time, most factories were ordered to temporarily shut down operations, and citizens reduced their shopping and eating at restaurants by 40 to 50 percent. As a result, the concentration of air pollutants was reduced by half in Beijing in August 2008, compared to the same month a year before.
Looking back, it was obvious that the improvement in air quality wouldn't last long, because the measures taken by Chinese government were not sustainable after all. In fact, coal use increased by 44 percent from 2006 and 2010, the years when its eleventh five-year plan was applied. And the number of privately owned vehicles jumped by 17 times to 93.56 million in 2011 from 5.5 million in 1990. Even with end-of-pipe technology that has been promoted, such as desulfurization equipment and automotive catalysts, it remains difficult to effectively address the air pollution problem.
In order to improve the current situation, it is necessary to apply additional measures that deal with the fundamental issues. These include elimination of coal dependence, capping of total energy consumption, improvement of gasoline and gas oil quality through large-scale capital investment, and development of infrastructure, including upgrades to the power supply, demand system, and public transportation.

Transboundary Air Pollution
It is a well-recognized scientific fact that air pollutants spread easily across borders. In the 1970s, a transboundary air pollution event triggered severe acidification in ecosystems in Europe, which led to the conclusion of the LRTAP (Convention on Long-Range Trans-boundary Air Pollution) and some accompanying protocols by 50 nations and the European Union (EU).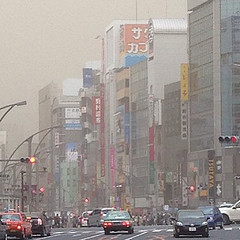 Image by Madjid Ben Chikh.
Some Rights Reserved.
In the meantime, Northeast Asian regions -- including Japan, China, and Korea -- have also observed air pollutants crossing over borders from time to time. And Japan and Korea, the countries most likely to be affected by air pollution because of their downwind locations, have been thinking that the establishment of an international framework like the LRTAP would be an ideal solution. The targeted substances for restriction have changed over time, first with sulfur oxide (SOx) in the 1990s, yellow dust in the early 2000s, ozone (O3), a cause of photochemical smog, in the late 2000s, and the most recently recognized problem of PM2.5 pollution.
It has been very difficult to achieve international consensus on cross-border environmental issues in recent years, so the outcome of the LRTAP in Europe is one of the rare successes. When thinking of framework construction on the issue of transboundary air pollution in Asia, the differences between Europe and Asia, as illustrated below, need to be analyzed logically.
First of all, Europe and Asia have different geopolitical climates. In the EU, most serious problems were occurring in the central-eastern European countries. Led by a strong motivation to expand, the EU set strict environmental standards for these countries as prerequisites to become a member country, while presenting financial support for environment conservation investment. Compared to the EU, Asian countries do not have the same driving incentives.
Second, although China's gross domestic product (GDP) per capita is still at the developing country level, the nation as a whole is a "big power" from various aspects. In the case of Europe, there are no outstanding countries in terms of air pollutants discharge from any one country. In the case of Asia, the development of a comprehensive framework could not be achieved without China's participation in the basic formulation process.
So far the Japan Agency for Marine-Earth Science and Technology (JAMSTEC), the National Institute for Environmental Studies (NIES), and other organizations have conducted quantitative analyses on PM2.5 pollutants arriving from China. According to these, depending on the time and place, the impact from transboundary air pollution in relation to the annual average concentration of PM2.5 in Japan is estimated to account for 50 percent at maximum. However, the PM2.5 concentration measured in the Kita-Kyushu area, one of the urban areas in Japan closest to China, on January 2013, during the days when the PM2.5 concentration was high in Beijing, was not significantly higher than that on January 2012. This result indicates that the relationship between China and Japan concerning the PM2.5 concentration increase is not as simple as first thought.

Future China-Japan Cooperation
Future cooperation between China and Japan is anticipated to be in the form of technology transfer from Japan and joint research. One example is the introduction of dust-collection technologies to capture very small-sized particular matter. De-sulfurization technology and de-nitration equipment are already widespread nationwide in China. Also, the transfer of technology related to electric vehicles (EVs) that includes plug-in hybrids is highly expected. In addition, the knowledge and experience gained from establishing volatile organic compounds (VOCs) emissions management systems in Japan need to be shared with China.
One thing we should note is that technology transfer is most often conducted among private companies, although they usually expect an injection of public funds to cover some portion of the initial investment. However, most such efforts end up in failure either as successful technology transfers or businesses. Japan's experiences and know-how in environmental pollution countermeasures in the 1960s and 1970s are shared with China to some extent through capacity building provided by technological cooperation programs of official development assistance (ODA) and projects to raise awareness. Moreover, in some areas, China takes more proactive or advanced countermeasures than Japan on environment and energy issues. Therefore, what Japan can provide to China, such as policy proposals and immediate technical measures against PM2.5, is quite limited.
In consideration of this situation, the best scenario is that the two countries establish a bilateral cooperative framework with concrete numerical targets of emission reductions. However, this won't likely be achieved without providing incentives in both countries. I believe that the following measures are critical to achieving this. First, both China and Japan must re-address their voluntary domestic PM2.5 emissions reduction targets, like the target set by the city of Beijing. Second, they should jointly launch an environmental fund that could also contribute to joint energy resource development, research in energy technology, and stock building in energy resources. Overall, these issues should be negotiated in a comprehensive policy package that addresses the various concerns shared by both countries.
During the 1980s, Mikhail Gorbachev, former president of the Soviet Union, sparked a historical shift in diplomatic policies by calling global environmental problems a "common enemy of humanity." His "new-thinking diplomacy" led to the peaceful mitigation of East-West conflicts. The EU got its start from a cooperative structure between the iron/steel and energy sectors. Even under current political tensions between Japan and China, as well as Japan and Korea, Asia should duplicate such a history of environmental and energy issues that bring peace to the region and the world. The term "crisis" in Chinese letters used in both China and Japan implies "opportunity." In an ideal scenario, a high-level cooperative relationship can be built by taking advantage of the current environmental crisis. If done properly, it is fully feasible.
------------------------
With regard to transboundary air pollution in China, the important key is China-Japan cooperation, and JFS will keep watching for updates on this topic.

Written by Nobuhiro Tanabe