JFS Newsletter No.150 (February 2015)
http://civilsociety.jcc2015.net/en/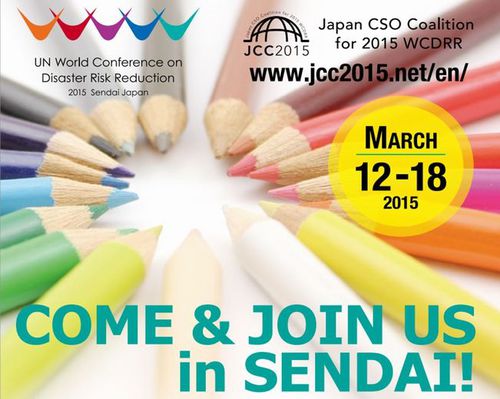 Copyright Japan CSO Coalition for 2015 WCDRR All Rights Reserved.
The United Nations World Conference on Disaster Risk Reduction (WCDRR) will be held in Sendai, Miyagi Prefecture, in northern Japan, from March 14 to 18, 2015. This is the third such conference, held once every decade. More than 5,000 people involved in disaster prevention and reduction will gather from 193 countries. The 2005 conference adopted the Hyogo Framework for Action (HFA), the world's only international guideline for disaster risk reduction. This year's conference aims have a new framework (HFA2) adopted to succeed the original one.
As part of the public forum of the third WCDRR, the Global Conference on Disaster Risk Reduction for Civil Society will take place from March 14 to 17 to provide citizens around the world an opportunity for mutual learning about DRR. A total of nine sessions will be held between March 14 and 16. The sessions include discussions on the Tohoku experience (the region most affected by the huge earthquake and tsunami in March 2011), case studies of disaster risk reduction outside Japan, and a symposium on global issues such as climate change and poverty. The main event, on March 17, is planned as a day with guests from all over the world to think about the role of citizens in disaster risk reduction. It will feature traditional Tohoku artistic performances and an international symposium. Thanks to Internet streaming video, anyone who cannot attend in person can still share in the atmosphere of the conference.
http://jcc2015.net/en/
The Japan Civil Society Organizations Coalition 2015 WCDRR (JCC2015) will handle planning and management of the conference. To learn with people from around the world and propose the building of sustainable and disaster-resilient communities, the network invited Japanese civil society organizations to participate. JFS asked Shigehiro Goda (a director of the Peace Boat Disaster Relief Volunteer Center and an organizer of JCC2015) to tell us about the objectives of these activities, and below is his reply.
---
Lessons from Japan to Share with the World
The last two WCDRR events were held in Japan, and the third one will be too. Why Japan? Because of the high expectations toward Japan around the world from people Japan to hosting again.
Through the ages, Japan has suffered from many natural disasters, such as earthquakes, tsunami, floods, snow damage and volcanic eruptions. With modernization, we have also experienced industrial disasters such as large-scale factory fires, chemical spills, and nuclear power accidents. There is almost no country like Japan that has faced such a variety of disasters.
Disaster-hit areas have first-hand experience in processes, from initial emergency response to recovery and reconstruction. Disaster prevention and mitigation are supposed to prepare for future disasters, taking advantage of the lessons from past experience. Repeating the cycle of emergency response, recovery, reconstruction, disaster prevention, and disaster risk reduction helps improve resilience to disasters.
The world knows that Japan is a disaster-prone country. At the same time, Japan is considered to be a leading country in disaster management, because the country has increased its resilience each time it experienced a large-scale disaster. That's why people in other countries hope to learn from Japan and apply the lessons to their own disaster-related measures. However, so far, Japanese people involved in disaster management have not paid much attention to cases in other countries.
This situation is now changing a bit. One example is the activities to share the lessons learned from the Great East Japan Earthquake by reporting the actual state of post-disaster reconstruction, in gratitude for the help provided by other countries. Another example is the initiatives triggered by the WCDRR conference planned for March 2015.
Adding Citizens' Voices to the Hyogo Framework for Action (HFA)
In Japan, the three major factors are considered essential to disaster management: "self-help", "mutual help" and "public help" (i.e., government help). Public help is mostly provided by governments, and typically includes institutional arrangements and infrastructure. Citizens play a leading role in the other two: self-help is for citizens to protect themselves and their families, while mutual help is for people to help each other in a community or to help others as volunteers.
WCDRR is a conference where United Nations (UN) member states (governments) gather to discuss public help. The conference, however, cannot produce significant results without the participation of citizens, who are the key players of self-help and mutual help.
Ten years ago, in 2005, the Second UN WCDRR was held in Kobe, Hyogo Prefecture, a city that was hit by the Great Hanshin Earthquake (or Kobe Earthquake) in 1995. To make the conference open to citizens, a public forum was planned for ordinary citizens as a side event alongside of the plenary session. Nevertheless, most organizers of seminars or symposiums of the forum were from international organizations, national and local governments, or research institutions. Although by then, ten years had passed since citizens had played a big role in disaster response, earning 1995 the nickname of "Year One for volunteerism" in Japan, the active participation of citizens was not evident at the conference.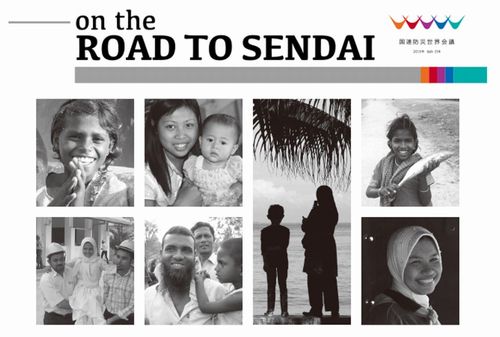 Copyright Japan CSO Coalition for 2015 WCDRR All Rights Reserved.
As a result, the HFA formulated then (the only international guideline on disaster risk reduction) has been criticized for its pale reflection of citizen voices, and for its failure to close the gap between policy and front-line reality. These reviews led to establishment of the Japan CSO Coalition for 2015 WCDRR (JCC2015). Its joint secretariat consists of five organizations: Japan NGO Center for International Cooperation (JANIC), CWS Japan, Sendai Miyagi NPO Center, Peace Boat Disaster Relief Volunteer Center (PBV), and Fukushima Beacon for Global Citizens Network (FUKUDEN). Its participants include more than 100 Japanese civil society organizations (CSOs) that have been playing active roles in the disaster-hit areas in Tohoku.
Selected as a major NGO partner to organize the third UN WCDRR, JCC2015 has been taking an active role in inter-governmental and regional meetings set up to adequately "export" the lessons civil society here has learned from activities in the disaster-hit areas, and transmit the voices of disaster victims to the international community.
The theme of multiple disasters is attracting the most attention from around the world; this is what happened in Fukushima, with an earthquake, tsunami, and nuclear power plant accident. Even with the world's most advanced technologies for disaster management, Japan sank into chaos and has not yet found clear direction for recovery or rebirth. Residents in Fukushima and evacuees from there are the most capable of accurately telling the stories about the disaster. CSOs that have been aiding them should also play a role.
JCC2015 also has a role in "importing" lessons to Japan from civil society overseas. For this purpose, it has signed a pact with the Global Network for Disaster Reduction (GNDR), the Asian Disaster Reduction and Response Network (ADRRN), and the Huairou Commission, which is a network of women working for disaster reduction at the household and community level.
Thanks to these activities, the newly adopted HFA2 will include various points that Japanese and overseas civil societies have been advocating.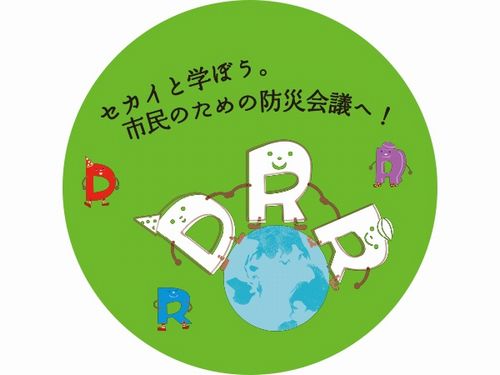 Learn with the World. DRR as Global Citizens
Copyright Japan CSO Coalition for 2015 WCDRR All Rights Reserved.
The Global Conference on DRR for Civil Society, and 10 Lessons from Fukushima
The Global Conference on DRR for Civil Society, which will be held in Sendai from March 14 to 17, 2015, is being planned and run by JCC2015 with the aim of having as many citizens as possible participate. This is the biggest event for the public among the events of the Public Forum of the third UN WCDRR. Thematic sessions will be held over three days and then the main event will be on the fourth day. Readers of this article are welcome to these events.
In addition, a study tour to Fukushima and an international symposium will be held on March 12 and 13, prior to the conference, to examine lessons learned and the current situation in Fukushima. A booklet summarizing the lessons learned by citizens from the nuclear power plant accident, titled "Ten Lessons from Fukushima," will be presented there. We will publish the booklet not only in Japanese and English but also in Korean, Chinese, and French, and later in other languages for every country that has nuclear power plants.
http://fukushimalessons.jp/en.html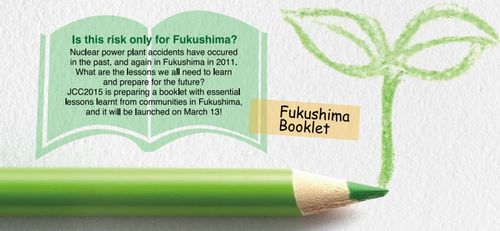 Copyright Japan CSO Coalition for 2015 WCDRR All Rights Reserved.
Japanese civil society has a history of becoming stronger through great disasters. Mutual aid among residents and volunteers is a "soft" dimension (people-centered, as opposed to "hard" infrastructure) for disaster management in Japan, a country that has a lot to share with the world in terms of disaster risk reduction. In addition, disaster reduction is a field where the distance between Japan and the world is expected to become smaller. As a citizen working in the field, I am dedicated to promoting efforts to make "soft" measures more mainstream in disaster management, and also create a new relationship with people around the world under the keywords of disaster prevention and reduction.
Shigehiro Goda, director of Peace Boat Disaster Relief Volunteer Center
Edited by Nobuhiro Tanabe