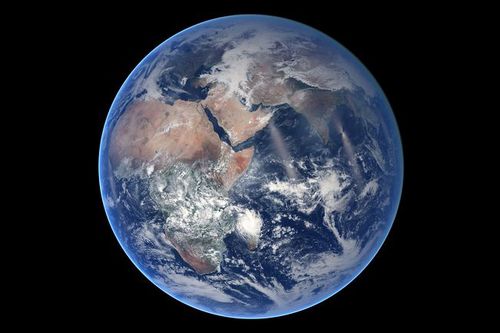 Image by NASA Goddard Space Flight Center Some Rights Reserved.
International environmental preservation organization the World Wide Fund For Nature (WWF) Japan announced on October 15, 2015, a proposal calling for the Tokyo 2020 Olympic and Paralympic Games (hereinafter "Tokyo 2020") to be seized as an opportunity for Japan to take a massive step closer to a sustainable society. The organization suggests that the "One Planet Lifestyle" be handed down as a legacy of Tokyo 2020 to the future of mankind.
The "One Planet Lifestyle" is WWF's concept for a sustainable society. It presents five areas of activity, including production and consumption, that should be the focus of improvements toward realizing a society where humans live within the planet's capacity.
Key objectives of the proposal are to "realize a low-carbon society" and "realize a society where responsible procurement has taken root."
For "realization of a low-carbon society," WWF Japan stresses the maximum use of the world's most advanced energy-saving and renewable energy technologies, and presented specific project examples such as low-carbon traffic systems for reduced carbon dioxide (CO2) emissions. Project examples for energy saving include a project to require Tokyo 2020-related facilities and commercial facilities to save energy and reduce CO2 emissions at the highest global standards.
The proposal is intended to update the Tokyo Metropolitan Environmental Master Plan, which is scheduled to be revised within fiscal 2015, to match the world's highest standards for a low-energy and low-carbon society, during the lead up to Tokyo 2020. The Organizing Committee, Tokyo Metropolitan Government, and national Olympic-related facilities would be required to comply with the standards. Periodic updates of the standards will provide occasion for making low-energy and low-carbon improvements even after Tokyo 2020.
For the "realization of a society where responsible procurement has taken root," the following three principles were proposed for all organizations and suppliers that will be involved in procurement for Tokyo 2020.
Use raw materials produced responsibly in consideration of forest and marine biodiversity, to conserve the precious global environment.
Avoid use of raw materials that may adversely impact human rights or the lives of local communities.
Calculate actual results of sustainable procurement and ensure the transparency of the information.
WWF has asked that reliable certification systems and specific procurement codes be applied for materials with a significant environmental impact, such as wood, paper products, palm oil, and marine products. For example, wood is a renewable resource as long as it is used properly. In the world's forests, however, can be found illegal logging and other types of wood production that are legal but not environmentally or socially sustainable. Therefore, WWF has proposed a procurement code in which purchasers must select wood materials for which consideration of biodiversity and local communities has been made so as not to cause the further reduction or degradation of forests.