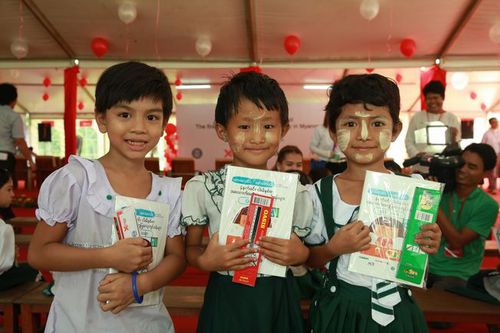 Copyright Fuji Xerox All Rights Reserved.
Fuji Xerox Co., a major office equipment and solution service provider based in Japan, launched in 2015 a project to provide learning materials in Myanmar and Thailand, with the aim of helping to resolve educational disparity among children. Fuji Xerox is responsible for the overall management of the project. After finding partners who can provide learning content free of charge and financial sponsors to cover the printing and other costs, the company produces workbooks tailored to local needs. The workbooks are printed using Fuji Xerox production printers, which are capable of printing any volume on demand, and distributed to children with limited educational opportunities through local non-governmental organizations (NGOs) and other groups.
In Myanmar, Gakken Holdings Co., Japan's leading provider of educational materials, provides mathematics exercises. Activities started in June 2015 with support from local Fuji Xerox customers. Printed materials were distributed to 110 children in Yangon and nearby areas. The company has set a goal to support 4,000 children in Myanmar by the end of 2023 with 16,000 workbooks.
The project was also launched in Thailand in August 2015. Production of workbooks and distribution lists were carried out with assistance from the Community Children Fund Foundation, a local NGO that supports children under the royal patronage of HRH Princess Maha of Thailand; customers of Fuji Xerox Thailand helped cover the printing costs. On the day workbooks were distributed, Fuji Xerox and volunteers from project partner companies attended a ceremony to explain how to use the workbooks. A fun-filled event, the ceremony included a band performance and activities such as painting playground equipment.
In the Philippines, where the project was launched in June 2014, activities have been expanding. While monitoring the usage of workbooks, the company distributes new workbooks to new children as well as children who have completed the first ones.
Fuji Xerox is seeking partnerships with more companies and NGOs and looking to expand project activities by leveraging the strengths of each partner. The company aims to lend study support to 100,000 children with limited opportunities in primary education in the Asia-Pacific region by the end of 2023.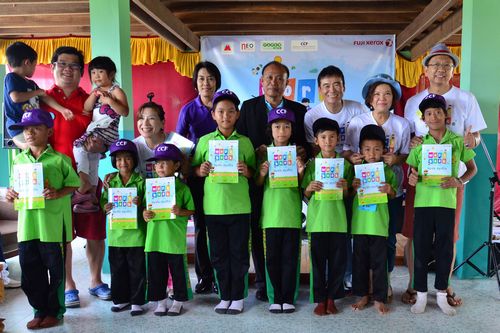 Copyright Fuji Xerox All Rights Reserved.
See also:
Fuji Xerox: Helping to Educate Children with Limited Access to Primary Education (video)
https://youtu.be/DBMnjpMu1vw