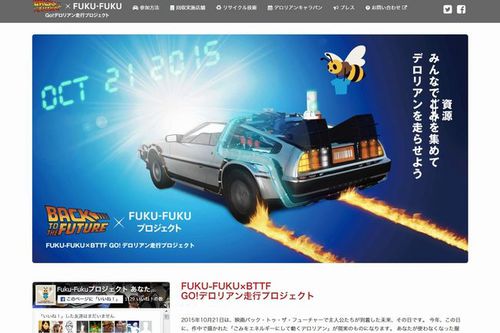 Go DeLorean project website
JEPLAN, INC., a Japanese company developing recycling technologies and systems, jointly with NBC Universal Entertainment Japan LLC, a film, anime, and home entertainment distributer, conducted an event to drive a DeLorean automobile with trash as fuel on October 21, 2015. The DeLorean was an automobile-based time machine in the Back to the Future (BTTF) films, and the date of this event coincided with the future date described in BTTF Part 2.
The DeLorean drove through the past, present, and future in the BTTF series, and in a scene of BTTF Part 2, the DeLorean drove using garbage as fuel. JEPLAN reenacted this scene using its recycling technology to produce bioethanol from clothes. The used clothes and textile products recycled into fuel for this event were collected nationwide through the FUKU FUKU Project at collection events held since the end of August 2015.
The FUKU FUKU Project aims to collect and recycle used clothes and textile products, and collaborates with various businesses and consumers. Participating businesses collect used textiles brought to their shops by customers. In preparation for the event, JEPLAN also carried out a campaign calling for recyclables by driving the same DeLorean at shopping malls across Japan.