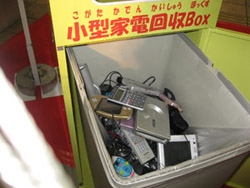 Copyright Cabinet Office, Government of Japan
Japan's Ministry of Economy, Trade and Industry (METI) and Ministry of the Environment (MOE) announced on March 6, 2013, its basic policy for promoting the recycling of small waste home appliances, subject to Article 3(1) of the "Act on Promotion of Recycling of Small Waste Electrical and Electronic Equipment," which was promulgated on August 10, 2012.
The idea is to help build an eco-friendly, recycling-based economy and society by boosting home appliance recycling, using more recycled products, reducing waste, improvement of environmental management by appropriate treatment of harmful materials and reduction of environmental load of resource mining with using recyclable resources.
The list of specific devices covered by the policy includes digital cameras, cellular phones, game consoles, and so on. METI set a recycling target of 140,000 tons per year by fiscal 2015 (based on around one kilogram per person annually), equivalent to roughly a 20-percent recycling rate of all small home appliances disposed in 2011, totaling about 650,000 tons.
Related JFS article:
Creating a Used Clothing Recycling System in Japan