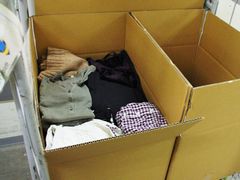 Copyright Ryohin Keikaku Co.
Ryohin Keikaku Co., a company involved in product planning and development, and operation of specialty shops such as MUJI brand products, carried out the "FUKU FUKU Project", a clothes recycling project, for 15 days from January 30 to February 14, 2010. As part of this project, unneeded clothes were collected at MUJI stores in Osaka Prefecture.

The project aims at 100 percent recycling of clothes. As a model for the recycling of textile goods supported by Japan's Ministry of Economy, Trade and Industry and the Organization for Small & Medium Enterprises and Regional Innovation, companies from various industries worked together on this project. The leading members of the experimental collection were Ryohin Keikaku, World Co., Mitsubishi Corporation, Toray Industries, Teijin Fibers Ltd., Tokai Senko K.K., Sekisui Chemical Co., and JEPLAN Co.
The collected clothing is degraded by natural enzymes and microorganisms to regenerate bio-ethanol, a biomass energy, from the cotton. Bio-ethanol is used as alternative to industrial ethanol and oil fuels. Materials other than cotton, such as nylon and polyester, are recycled, while the remaining materials are thermally decomposed and used as fuel. In this way, almost 100 percent recycling is achieved.
Ryohin Keikaku Co. official website
http://ryohin-keikaku.jp/eng/
Posted: 2010/05/01 06:00:15 AM