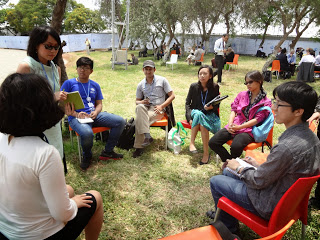 Copyright Climate Youth Japan All Rights Reserved.
Climate Youth Japan (CYJ) is a non-profit organization founded in 2010 by a group of Japanese youth who take action against climate change, and are interested in and concerned about climate change issues. They aim to create an equitable and sustainable society through addressing climate change issues by empowering young people to get their voices heard in society.
In June 2015, CYJ launched a project to bring the voices of Japanese youth to the 21st Session of the Conference of the Parties to the United Nations Framework Convention on Climate Change (COP21) scheduled for December 2015 in Paris. This will be the sixth time that CYJ pursues a COP-focused project.
This COP21 project is being carried out with support from Kiko Network, a non-governmental, non-profit organization (NGO/NPO) dedicated to proposing solutions, disseminating information and taking action against climate change caused by global warming. The project also receives assistance from the Japan Fund for Global Environment, which funds grants, develops human resources and provides information to support NGO/NPO activities for environmental conservation.
The COP21 project has established three goals:
1. Express an opinion on a global stage as a representative of Japanese youth.
By attending an international conference as a representative of the future generation, and delivering a message advocating that consideration be given to the people and life forms that will inhabit our future Earth, the project will urge COP21 delegates from around the world to make decisions while taking the future into account.
2. Strengthen the international network of youth and promote collaboration with young people overseas.
This would allow Japanese youth to expand their ties with young people abroad who submit policy proposals, speak at international conferences, and conduct campaigns against climate change.
3. Develop "climate leaders" who speak and act independently, and promote collaboration among youth.
The purpose of this goal is to develop climate leaders who have a long-term vision and can promote youth awareness of and active involvement in climate change initiatives. Connecting these climate leaders and "potential leaders" throughout Japan will facilitate further development of their abilities and pave the way for initiatives influential to society.
The COP21 project will also participate in the Conference of Youth (COY), a gathering of young people involved in climate change issues and occurring every year before the COP, in order to build international networks among youth, make the voices of young Japanese heard, and inspire young people back in Japan.
Updated: The COP21 project activities in Paris were canceled due to the November 2015 Paris Attacks.
Furthermore, CYJ newly launched an environmental policy competition project in 2015. It aims to create opportunities for young people and experts in Japan to discuss climate change issues, which will hopefully encourage more policy discussions and proposals by young people.
In the first year, the new project aims to hold events related to environmental and climate change policies in several locations in Japan, and during subsequent years, plans to host youth climate change policy competitions.