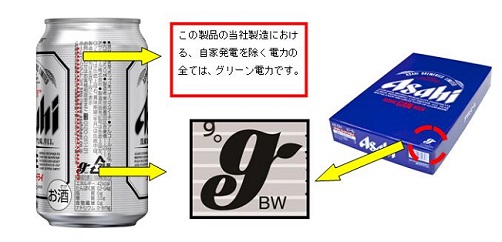 This product was produced using green power during in-house production process except the electricity from private-power facilities.

Copyright Asahi Breweries All Rights Reserved.
With English translation by JFS
Asahi Breweries, Ltd., a major Japanese brewer, announced on June 4, 2015, that the number of cans of Asahi Super Dry Beer (the company's main product) manufactured using electricity from renewables has topped eight billion. Among the Japanese food industry, Asahi Breweries became the first company to use green power for in-house production. Below we share an article on Asahi Breweries' initiatives provided by Smart Japan, an online media service provider specializing in the latest developments on energy efficiency, storage and generation.
Asahi Breweries signed a contract with Japan Natural Energy Co. in April 2009, to purchase 40 million kilowatt-hours of power from green energy sources, particularly wind and biomass power, every year. The company manufactures Asahi Super Dry Beer (350 ml can) and other beers included in gift sets using this green power, and obtained the Green Energy Mark logo for these products.
The Green Energy Mark logo was established by the Green Energy Certification Center in May 2008. Products with this logo are proved to have been produced using green power.
Green power is generated by renewable energy sources, and includes photovoltaic, wind, biomass and geothermal power. Renewable energy has valuable features; it helps prevent global warming by not emitting carbon dioxide (CO2) and it will never run out. The company announced that the number of cans of Asahi Super Dry Beer manufactured using green power has exceeded eight billion.
The total green power usage in this initiative between May 2009 and December 2014 amounted to 130 million kilowatt-hours, which makes it the largest scale operation in the food industry. This has contributed to an approximately 60,000-ton reduction in CO2 emissions, which is equivalent to the annual emissions of about 11,000 households.
Asahi Breweries has also installed photovoltaic power generation systems in its Hakata and Nagoya plants, in an effort to use green power generated in-house, thereby showing a positive approach to the use of renewable energy.
Source: Smart Japan (in Japanese)