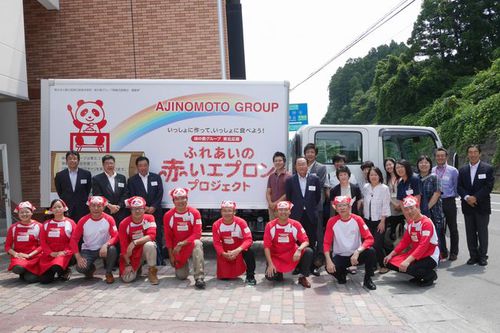 Copyright Ajinomoto Co. All Rights Reserved.
The Ajinomoto Group, a major Japanese manufacturer of food and beverage products, opened a new base for its "Fureai Red Apron Project" in Iwaki City, Fukushima Prefecture on August 1, 2014. "Fureai" means "communication" in Japanese. The project, started in October 2011, supports the three prefectures in the Tohoku region that were damaged by the Great East Japan Earthquake. The main activity of the project is to hold "health and nutrition" seminars in temporary houses. Following Tono City in Iwate Prefecture and Sendai City in Miyagi Prefecture, this is the third city where the project is implemented, aiming to hold 450 seminars within the next year.
The project provides easy and delicious recipes using locally produced foods in seminars, in cooperation with local governments, dietetic associations and NPOs. They cook together with people living in the temporary houses and exchange information about health and nutrition at the table. Along with opening this new hub, a third special truck has been prepared to carry a mobile kitchen, called the "Anywhere Kitchen", and cooking utensils.
Starting in October 2011, "Red Apron Project" activities have been conducted over 1,000 times with 17,935 participants in 44 cities and towns in Iwate, Fukushima and Miyagi Prefectures as of November 2014. The Ajinomoto Group says that they intend to support mental and physical health as the region's recovery progresses.