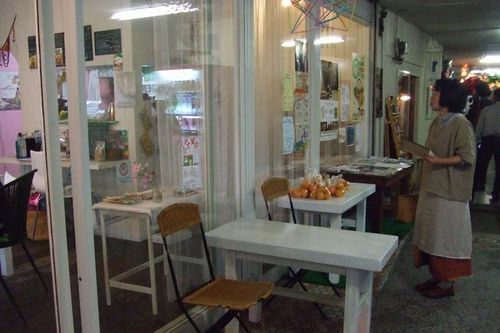 The declining vitality of shopping streets has become a concern nationwide in Japan, so efforts at revitalizing them tend to attract attention. One such "shuttered street" had nine out of 13 stores closed at one point, but since it was revitalized, it has had no vacant stores for two and a half years. (In Japan the streets are referred to as "shutter streets," because the empty shops' shutters are pulled down, but the equivalent term in other countries might be "dead mall.")
The "Kita-Koka Shopping Street" in our story was built 47 years ago under a raised structure near the JR Beppu train station in Oita Prefecture. Despite its proximity to the station, few customers went to the stores lining this quiet street. It was a typical "shutter street," with three-quarters of the stores vacant.
Change was brought about by a cafe that opened at the entrance of the shopping street in April 2011. The owner started making it a space for people to gather by displaying artwork of artists and also made it available to someone else to run a cafe-bar at night. Then Hideaki Hinako from the local community also opened a book and record shop named "RentRec." in August that year.
With cooperation from the shopping street's management company, the two owners asked local painters to paint on the walls and pillars of the street, which transformed its deserted image into a brighter one. They also started holding a Saturday flea market, dubbed the "Slowly Market," attracting attention and people who had never come before. Others came to like the street and started their own new shops. When someone held an art event at a vacant shop, one of the visitors liked it and decided to open a variety shop there. Shops opened one after another, and eventually, all the shutters of the once-shuttered street were open.
Hinako says, "Stores provide a spark for economy. To own stores is not like sales on the Internet. It means that people living around here come every day and buy something. And we provide things they want or need."
"About 110,000 people live in Beppu. If you consider 1,000 people who earn a certain income a year and want certain things, and come to buy once a month, our businesses will work. If 1,000 people spend 1,000 yen a month here, the total sales will be one-million yen (about U.S. $10,000), which means the business can employ two or three staff."
"A record shop does not have to sell only records. We can sell 'listening to records.' For example, for people who have a lot of records but are not able to listen to them all at home, we could offer a space for appreciating records once a week. In return, they could buy a cup of tea. By doing this, we might be able to earn some money. I suppose it is important to create a fair relationship that is profitable for each other, and we are switching to this direction little by little."
Japan today is facing population decline and the aging of society, so discussions and policies about the "revitalization of community" are hot topics these days. In this context, new ways of thinking and the efforts of local stores and shopping streets like this one are drawing attention.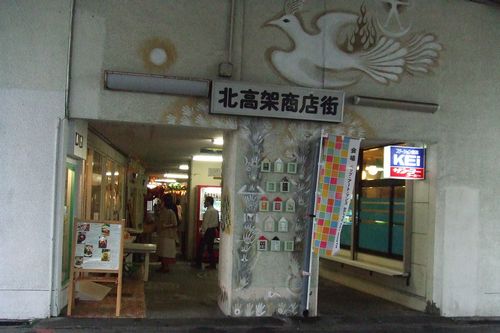 Junko Edahiro