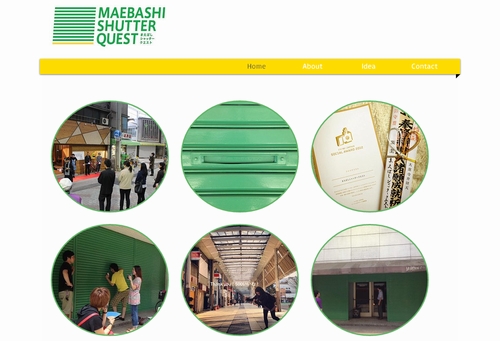 The executive committee for Maebashi Shutter Quest, which promotes revitalization of local shopping streets in Maebashi City, Gunma Prefecture, launched the "Maebashi Shutter Quest" project in December 2012. The project invites people to walk around the area and peep inside stores through mail slots in the shutter, with the aim of helping shops to reopen and fill the streets with many people as a few decades ago.
When peeping through the mail slots, people find "Shutter Coupons" set inside, allowing them to save on shopping and eating out. This motivates people to get to know the town and facilitates communication, and thus spending more money on the shopping streets. Peeping can change the town.
This project takes advantage of human nature to want to peep through holes. Assuming that "peeping" gives people thrill, it allows visitors to peep and experience warmth of the local people, which is the essence of a local shopping street.
Related JFS article:
Local Currency 'Atom' Introduced in Local Shopping District