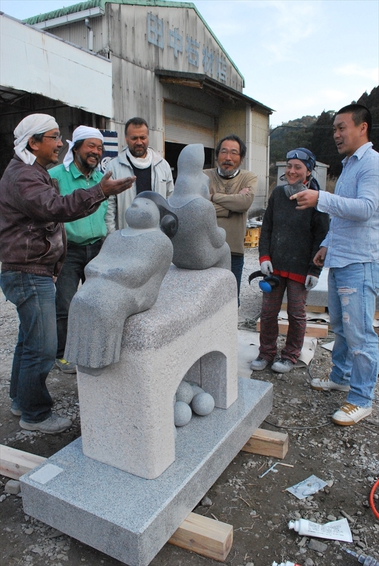 Copyright Takanabe City All Rights Reserved.
A community council assigned the task of revitalizing commerce in Takanabe, Miyazaki Prefecture, has been improving the visual appeal of local shopping streets by focusing on the town's history as the castle town of the Takanabe clan and commissioning works of light art in association with the lantern festival held every autumn at the town's castle, Maizuru Castle.
Following the installation of 25 stone lanterns in 2010, the council gave four domestic and foreign artists selected through an international competition an opportunity to stay in the town to create and install "light art monuments" on an open-to-the-public basis in 2011. In 2013, the council started an artist-in-residence program for Japanese artists, in which the creative process of residing artists is open to the public and the created artworks are installed in the town. The council's goal is to install six new pieces of light art every year so that, in ten years, the town's streets will be lined with original light art by expert sculptors from in and outside Japan.
Japan's Ministry of Economy, Trade and Industry selected the council as one of the "30 Gambaru Shotengai" (The 30 Hardest-working Shopping Districts) on December 25, 2013, in recognition of the fact that the council's series of projects have been community-based, lead by second- and third-generation active leaders, and have potential for future expansion.