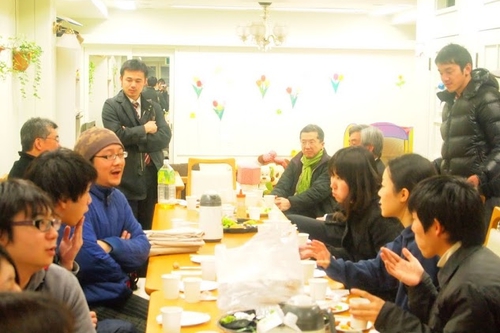 Copyright Plusus All Rights Reserved.
Plusus, a Japanese non-profit organization that develops businesses for local revitalization, introduced two projects to utilize vacant stores on shopping streets on November 1, 2013. One is to reuse a vacant store as a shared house in the city of Kurume, Fukuoka Prefecture; another is to reutilize a vacant store and held an networking event in the city of Mito, Ibaragi Prefecture.
The "Share House on Shopping Street" project in Kurume started its second term on October 13. At the house shared by students and young professionals, the project aims to revitalize its community from the shopping street as well as expand businesses there. About 20 participants including university students and the head of the shopping street gathered for the start-up ceremony of its second term and exchanged opinions for future collaboration in the community involving the younger generation.
In Mito, local university students manage an office established in a renovated, vacant 50-year-old store. The first networking event for students was held on October 19. Plusus plans to develop shared-house-based projects in various regions with an aim to strengthen communities inter-regionally.