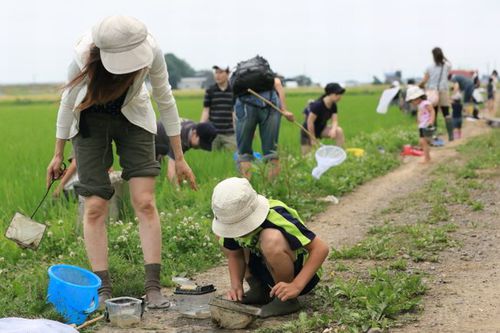 Copyright Aleph Inc. All Rights Reserved.
In March 2014, the Japan Committee for the United Nations Decade on Biodiversity (UNDB-J) recognized the "Living-Things-Friendly Rice Paddies" project as one of its official collaborative projects. This project is implemented by Aleph Inc., a Japanese company that manages "Bikkuri Donkey" and other family restaurants.
Through its project, Aleph aims to jointly conserve biodiversity in rice paddies with farmers, clients, and a variety of other stakeholders, by procuring rice grown using biodiversity-friendly farming methods, serving the rice to customers at its restaurants, demonstrating the growing of rice in winter-flooded paddies ("fuyumizu-tambo" in Japanese) at its own facilities, offering hands-on experience at the paddies, and conducting demonstration tests using these methods. These activities are all aimed at enhancing the biodiversity of Hokkaido, located in the northernmost part of Japan.
Winter-flooded rice paddies are flooded after the fall harvest season, with the aim of helping sludge worms and other aquatic organisms perform better in curbing the growth of weeds and in producing nutrients. In these paddies, organisms are protected and nurtured while they help with the growth of rice. This farming method takes advantage of the close relationship between the living organisms in the paddies with rice-growing.
Aleph plans to continue serving restaurant customers the rice grown in these biodiversity-friendly paddies, in an effort to contribute to biodiversity conservation through its core business activities. The company will also conduct research with the participation of local people and employees where rice is grown, and will work to raise public awareness of the project both at its restaurants and online. Moreover, it will continue with dialogue and demonstration tests with rice producers and others, with the aim of establishing a more sustainable organic cultivation technology.