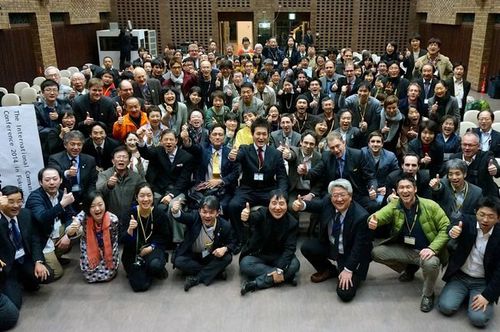 Copyright Institute for Sustainable Energy Policies All Rights Reserved.
Based on the Renewables Japan Status Report 2014 published by the Institute of Sustainable Energy Policies (ISEP) in March 2014, this article will introduce you the present status of national and local government renewable energy policies and progress in examining possible regional projects.

Renewables Japan Status Report 2014 http://www.isep.or.jp/en/library/2958
Since the Great East Japan earthquake and the nuclear power plant accident in Fukushima three years ago, renewable energy generation systems have quickly spread across Japan, thanks to the Basic Energy Plan revision and power system reform, as well as the Feed-in-Tariff scheme. A number of local governments and industries are also involved in renewable energy generation projects, over 90 percent of which are solar power generation projects. The report attributes this high percentage to its relatively short lead time to actual operation and less stringent regulations when compared with other renewable energy sources.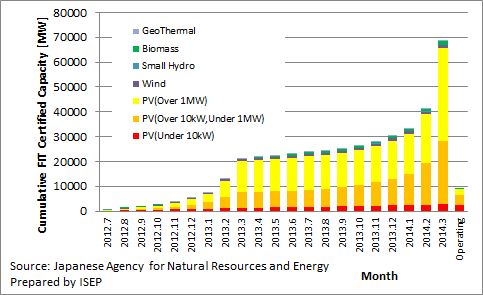 Copyright Institute for Sustainable Energy Policies All Rights Reserved.
While larger businesses with abundant human resources and capital are said to have advantages in getting large, regional-level renewable energy projects off the ground, the report points out a small, but steady increase in smaller scale solar power projects led by local businesses and citizen groups and supported by local governments.
Communities have been initiating renewable energy-related projects and activities in areas throughout Japan, particularly since 2013, which may be called the starting year of community power. The whitepaper includes the current status and challenges covering various fields and ideas for solutions, as well as the introduction of projects involving consensus building, human resource development, building up organizers, project schemes led by communities and fundraising in cooperation with local banks.
The 2014 Global Status Report edited by REN 21 was published in June, and summarizes the trends for renewable energies in the world. According to that report, regions where the natural energy market has been growing have shifted from Europe to emerging economies such as China. Accordingly, Japan ranked second in the solar power generation market and third in the renewable energy market with regard to revenue. The international community will now be paying attention to the future of Japan's rapid renewable energy growth, despite the many challenges that needed to be overcome.
Hironao Matsubara
Institute for Sustainable Energy Policies