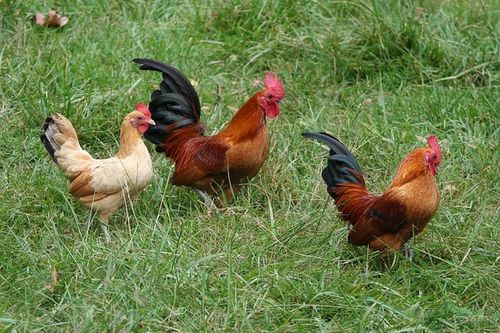 Image by JamesDeMers Some Rights Reserved.
Jumonji Chicken Company, a Japanese poultry producer in Iwate Prefecture, in northern Japan, announced on March 26, 2014, that it has started building a biomass power plant fueled by chicken manure, and then through the operation of the plant it will enter into the power generating business using Japan's renewable energy feed-in-tariff (FIT) scheme.
The Jumonji Chicken Company Biomass Power Plant is being built in Karumai Town, Iwate Prefecture, using 400 tons of poultry manure per day supplied by the company and affiliated chicken farms. The plant is expected to have an output capacity of 6,250 kilowatts (6.25 megawatts) and a transmission capacity of 4,800 kilowatts, after deducting the amount of power consumed in the plant. Construction started in August 2014, and its commercial operation is scheduled to start in March 2016.
There are three poultry manure fueled power plants in the Kyushu region (two in Miyazaki Prefecture and one in Kagoshima Prefecture). The new plant, the first one outside Kyushu, will be the largest operated by a single company in the poultry industry in Japan.
The company says the aim of this biomass power business is to utilize poultry manure, a locally produced biomass resource, as a clean energy resource and also to recycle resources by utilizing the incineration ash as a raw material for fertilizer. It also hopes this business will contribute to local activation, reduction of carbon dioxide as a measure against global warming, and achieving the national goal set for biomass power generation.