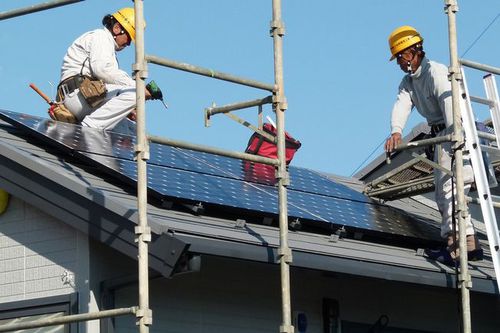 Image by CoCreatr Some Rights Reserved.
The Union of Kansai Governments, which consists of seven prefectural governments (Kyoto, Osaka, Shiga, Hyogo, Wakayama, Tottori, and Tokushima) and four government-ordinance-designated city governments (Kyoto, Osaka, Sakai, and Kobe) in the Kansai region, released the Kansai Energy Plan in March 2014. In this plan, the Union aims to triple the output of solar energy and other renewable energies to 6 million kilowatts in 2020.
The electricity generated by renewable energies in the area is now 2.01 million kilowatts, 0.75 million kilowatts of which are generated by photovoltaic power. The Union's goal for 2020 is an electricity generating capacity of photovoltaic power of 4.5 million kilowatts, which is equivalent to the annual amount of power consumed by 1.3 million households.
To promote photovoltaic power generation, it will broadly publicize information for matching electricity companies and public/private facilities and sites, in cooperation with prefectures and cities. It will also encourage Kansai Electric Power Co. to carry out joint power generation projects as well as to work on research and development to expand the use of renewable energies.
Also, the Union plans to work on research and development, inter-company cooperation, and development of energy-related technologies in cooperation with the Kansai Bureau of Economy, Trade and Industry. It will appeal to the national government to clearly set a target to introduce renewable energies and to provide support to new technological development such as offshore wind power generation and wave-power generation.
Kazuko Kojima