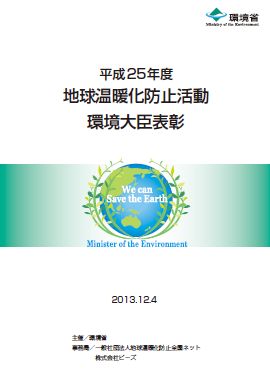 Copyright Ministry of the Environment All Rights Reserved.
The Japanese Ministry of the Environment announced the winners of the 2013 Environment Minister's Award for Global Warming Prevention Activities on November 29, 2013. The annual award was established in 1998 to honor individuals and groups that have made outstanding achievements for preventing global warming, and 45 activities (four individuals and 41 organizations) received the award this year.
There are five categories in this award: (1) technological development and commercialization, (2) countermeasure technology introduction, (3) implementation of countermeasures and dissemination, (4) environmental education activities, and (5) international contributions. The total number of applicants in this year was 204, a substantial increase from 160 in 2012.
Among corporate members of Japan for Sustainability, Takenaka Corporation (2 activities) and Fujitsu Limited won awards in the technological development and commercialization category, while Nipponkoa Insurance Co. won an award in the implementation of countermeasures and dissemination category for the third consecutive year. In FY2007, JFS won the award in the category of international contributions.