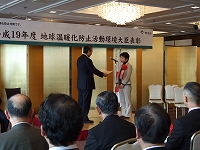 Copyright Japan for Sustainability
On December 17, Japan for Sustainability (JFS) was presented the 2007 Environment Minister's Award for Activities to Fight Global Warming in the category of international contributions. JFS was recognized for its unique achievements in gathering information about outstanding efforts in many sectors in Japan to promote sustainability and for distributing the information in English to the world via the Internet.
The annual award, started in fiscal 1998 as a measure to promote global warming prevention, is given to groups and individuals in order to honor outstanding achievements. The winners in fiscal 2007 included 34 organizations and four individuals in five categories: seven in technological development and commercialization, seven in the introduction and spread of technology, seven in practical activities, 14 in environmental education and awareness-raising, and three in international contributions.
The chairperson of the award committee stated at the ceremony that activities to fight global warming have broadened nationwide and taken a wide variety of forms. The number of applicants from the industrial sector decreased slightly this year, but new winners included eight schools (from primary to high school) for efforts in environmental education, as well as organizations disseminating environmental information--a first in the category of international contributions.
- JFS Wins Special "GENKI" Award for Communication Role (Related JFS article)
http://www.japanfs.org/db/499-e
- 24 Anti-Global Warming Activities Win Environment Minister's Award for 2005 (Related JFS article)
http://www.japanfs.org/db/1268-e
Posted: 2008/01/24 07:05:42 PM
Japanese version