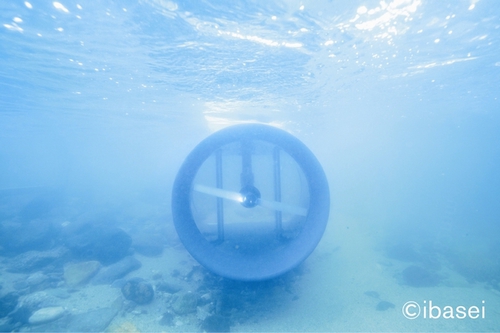 Copyright Ibasei Ltd. All Rights Reserved.
Ibasei Ltd., a Japanese manufacturing engineering company in Ibaraki Prefecture, launched sales of a new portable flow-through type of hydroelectric generator, called the "Cappa," in December 2013. It was jointly developed with a team led by Assistant Professor Yasuyuki Nishi of the Graduate School of Science and Engineering at Ibaraki University, and won the Product Design Prize (Small and Medium Enterprise Agency Director-General Award) at the 2013 Good Design Awards ceremony.
When the cylindrically shaped generator is submerged in a river or stream, its built-in propellers, driven by the water flow, start high-speed rotations to generate electricity. In a river or stream of at least 60 centimeters in depth and 1.9 meters in width, it can continuously produce an output of 160 watts from an average water flow of 1.75 meters per second. It can supply minimum emergency power needed in a disaster, and at ordinary times is also useful for applications such as powering security lamps on streets at night or as a power source for mammal pest control systems on farms and in fields.
The Cappa has a water intake and flow velocity boosting device with uniquely-shaped gears that increase the water flow surrounding the intake, which allows the device to perform highly-efficient power generation, at about four times more compared to a device with a single propeller. Small output capacity has been a weak point of flow-through type hydroelectric power generators compared to waterfall-type generators such as those used in dams, an issue the Cappa generator could overcome.
The unit can be installed without any extra construction process or exterior power source. Installation is done simply by placing four aluminum planks across a river or stream, from one bank to the other, and then fixing the handles attached to the main body to the planks. The generator measures about 83.2, 77, and 66.5 centimeters in width, depth, and height, respectively, and weighs 57 kilograms, making it light enough to be carried by two adults.
Kazuko Kojima