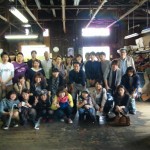 Copyright Yamaguchi
Sangyo Co.
All Rights Reserved.
Yamaguchi Sangyo Co., a Japanese company that produces certified "eco-leather" in Tokyo's Sumida Ward, offered public tours of its factory on November 12, 2013. The factory's leather product is called eco-leather, as it is certified under the Japan Eco Leather Standard (JES), the Eco Mark certification for leather set by the Japan Environment Association.
In order to gain JES certification, the leather product must be (1) natural (not synthetic ); (2) produced at factories where wastewater and waste materials are managed to set standards; and (3) that meets standards in terms of effluvium, chemical agents (restrictions on the use of formaldehyde, heavy metals, pentachlorophenol, prohibited azo dyes, and carcinogenic dyes), and fastness to dyeing and rubbing.
In the factory tour, the public can see the process of tanning animal skins -- a process to strengthen the fibers of skins to produce soft and durable leather. In the tour, it is explained that the skins come from wild boars and deer killed to prevent them from causing property damage, and that their skins, which are basically not easy to use, can be used for leather by being tanned.
Yamaguchi Sangyo offers its factory tour almost every month, in an effort to help people better understand the importance of living things and natural materials, and also to contribute to more progressive approaches to issues of property damage caused by animals, by showing the process of using the entire skin of animals.