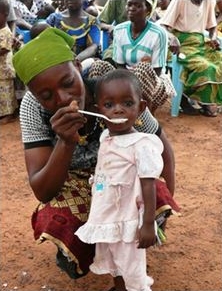 Copyright Ajinomoto Co. All Rights Reserved.
Ajinomoto Co., one of the major Japanese food product manufacturers, announced on September 12, 2013, that it would join the Business Call to Action (BCtA), a public-private sector initiative hosted at the United Nations Development Programme (UNDP), which supports the development by private companies of business models that balance commercial success and sustainable development. To improve nutrition in Ghana, Ajinomoto intends to share specialized knowledge on nutrition and food science, providing a nutritional supplement named "KOKO Plus" to 200,000 weaned children by 2017.
"KOKO Plus" is a nutritional supplement added to Ghana's traditional baby food, called KoKo, which is rice porridge made from fermented corn. Ajinomoto has developed KOKO Plus to improve nutrition for weaned children, in cooperation with Ghana University and international non-governmental organizations (NGOs). The unique and specialized knowledge in food science that the Ajinomoto Group has accumulated over many years was used to develop the product. Ajinomoto will support farmers and create jobs for local people by procuring the materials for the supplements locally, and doing the processing and sales locally, too.
This project aims to improve nutrition in Ghana by using the know-how of various entities, including Ajinomoto, which seeks to expand the use of supplements as a social business model, the Japan International Cooperation Agency (JICA), which works toward cooperation between the public and private sectors, and aid agencies in different countries striving to improve nutrition.