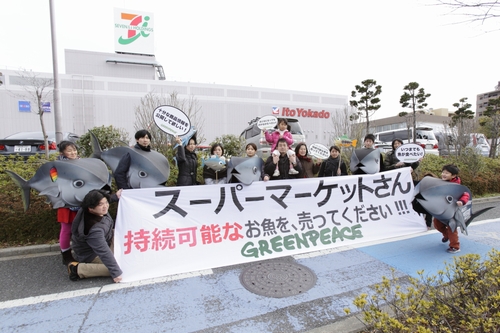 Copyright Greenpeace

Greenpeace, an international environmental non-government organization, announced the results of its "Supermarket Ranking for Fish Safety 2" of the five major supermarket chains in Japan on February 7, 2013. Many Japanese buy fishery products at supermarkets, but there are some underlying concerns about issues such as over-fishing and radiation contamination caused by Tokyo Electric Power Company's Fukushima nuclear accident. The ranking is based on the results of a Greenpeace questionnaire survey targeting the five major supermarket chains in order to press them to create procurement policies that pursue the safety and sustainability of the fishery products they sell.
Greenpeace summed up the responses and graded them using a point system in terms of the following six categories: (1) traceability, (2) information disclosure to consumers, (3) fishery products that should not be procured, (4) fishery products that should be actively procured, (5) procurement policy, and (6) problems associated with radiation contamination.
As a result, the points each supermarket garnered were generally low. Even the score of supermarket chain Aeon Co., which garnered the highest score, was still only 59 points out of 100. There are some trends that all the supermarkets have in common, such as insufficient disclosure of information about fishery products as ingredients and the lack of establishment and implementation of sustainable seafood procurement policy. This result brought up the reality that the entire industry has urgent work to strengthen their activities for ensuring the safety and sustainability of fishery products.
Related JFS article:
Greenpeace Discloses Supermarkets' Actions against Radioactively Contaminated Fish
A Brief History of the Environmental Movement in Japan (Part II)