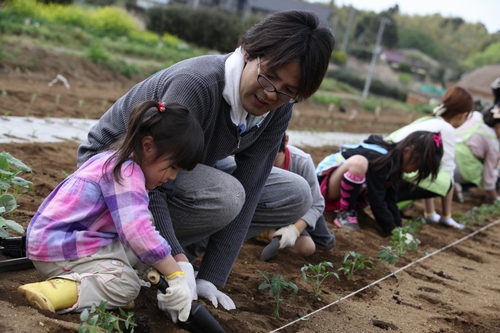 Copyright Yachimata Fureai Organic Farm

Yachimata Fureai Organic Farm, a membership-based allotment garden in Yachimata City, Chiba Prefecture, announced on April 16, 2012, that it will provide its farmland for a housing project "SB HOME Farm" by Soubu Construction Company, a local housing construction company. The farm is jointly operated by Dr's Choice Co., a company in Tokyo which develops and manufactures medical products and health food, and uses farmland certified under the Japanese Agricultural Standards for Organic Agricultural Products (JAS-Organic) system.
Home purchases will receive special membership at the farm, which is well equipped with a production management system, and can use the farm freely. People often find it difficult to produce and harvest crops in home gardens or rental allotment farms without management service, so the members of this farm will have the advantage of learning directly from professional farmers about how to grow vegetables organically.
Sobu Construction Company plans to sell 10 houses in the first fiscal year, and to build a shared kitchen garden in its subdivision lots within a few years. By providing houses with a farm, it is expected to help promote community-building in its subdivision lots as well as a good life for the local community.
Posted: 2012/08/29 06:00:15 AM