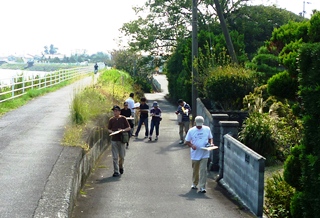 Copyright Makinohara City All Rights Reserved.
Makinohara City, Shizuoka Prefecture, set up a Community Promotion Council in each of the city's elementary school districts in April 2012. In Sagara, Katahama, Jitogata, Kawasaki, and Hosoe, five districts located on the coast, work has gotten underway to create a "District Community Development Plan for Tsunami Disaster Prevention" (unofficial translation) as part of city-wide planning that takes into consideration the conditions and issues facing each district.
The plan was discussed in a workshop format by people elected by each district and from stakeholder organizations, with the goal of compiling the results as an action plan for each district. For example, in a workshop held in August 2012, participants discussed the theme, "What concerns do you have about evacuating during a disaster?" and decided on routes to walk in town to understand the actual logistics of an evacuation. In September 2012, participants walked the streets in all five districts at the same time. They followed the routes they had previously decided, making note of any dangerous spots.
The project was run by the committee in each district, with support from city facilitators for collaboration in community development.