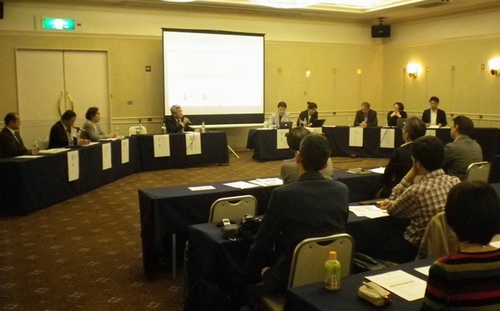 Copyright Institute for Sustainable Energy Policies

An open meeting dubbed the "Community Power Initiative" (tentative name) was held on March 9, 2013, in Yokohama, and included key figures from around the country, to jump-start a community-based energy society. Against the backdrop of the "community power revolution," a growing movement aimed at shifting energy systems from old, large-scale centralization to regionally distributed networks, the meeting focused on achievement of a decentralized network-based energy society that makes denuclearization and community independence possible by connecting local groups and key people, mutually cooperating and learning together.
Various activities have been planned through initiatives around the country. For example, the Institute for Sustainable Energy Policies (ISEP) plans to organize community power study groups starting this year. ISEP has already held a community power meeting as a domestic and international cooperation and networking event every spring since 2012.
"Community Power" refers to an approach for promoting renewable energy through cooperation among a wide range of people, use of local resources, and working from the bottom up. The World Wind Energy Association (WWEA) advocates these three principles, emphasizing the need for a mechanism to return profits to local people. Advocates from around Japan discussed the future of community power at the Community Power Meeting held in February 2013 in Ube, Yamaguchi Prefecture. The meeting featured keynote speeches made by experts from the Samso Energy Academy of Denmark, the Ontario Sustainable Energy Association of Canada, and Hepburn Wind of Australia.
Written by Hironao Matsubara, Institute for Sustainable Energy Policies
Related JFS article:
Tracking Sustainable Energy Zones in Japan: Status of Renewable Energy Supply in Municipalities
Japanese Economy Ministry Unveils Time Schedule for Electricity System Reform
Transition Towns in Japan and a Try for Local Energy Independence by Fujino Denryoku