JFS Newsletter No.126 (February 2013)

The percentage of renewable energy in Japan's total energy supply is only about 4 percent, so it is important to identify the areas that have a high share of renewable energy supply through a regional survey by prefecture and municipality, with the aim of increasing the areas that have sustainable energy supply through the use of renewables.
Fifty-Two Municipalities in Japan are Fully Self-Sufficient in Renewable Energy
A research group led by Professor Hidefumi Kurasaka at Chiba University and the Institute for Sustainable Energy Policies (ISEP), a Japanese non-profit organization, has been conducting a joint research project on "sustainable energy zones" since 2007, and annually releases the status and trends of renewable energy supply in each municipality in Japan. They believe that the share of renewable energy in overall supply would be an effective indicator of sustainability in each area.
Depending on different local characteristics, each area utilizes a different mix of renewable energy sources, such as solar, wind, micro-hydro, geothermal, and biomass power. Assessing renewable power utilization as an indicator makes it possible to evaluate and further develop each area's sustainability, which has never been measured in any economic index, of which gross domestic product (GDP) is an example. In this issue of the JFS newsletter, using the latest data from the "Sustainable Zone Report 2012," released at the end of December 2012, we would like to introduce some notable local features and sustainability topics from the perspective of the renewable energy supply rate in individual areas.
According to data on the renewable energy supply estimated as of March 2011 by prefecture, 11 prefectures, including Oita, Toyama, and Akita have a share of over 10-percent renewable energy supply in proportion to electricity demands for households and business activities, as well as for agriculture, forestry, and fisheries (see Figure 1).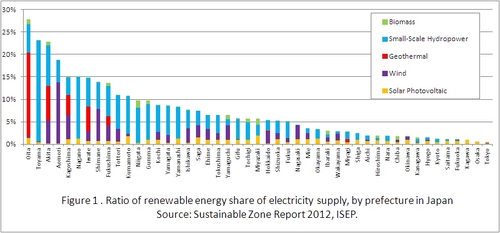 Each prefecture has unique local characteristics in renewable energy utilization. For example, Oita, a prefecture famous for its hot springs, has a large proportion of electricity supply from geothermal sources, while Toyama, a prefecture blessed with abundant water resources, is mostly dependent on micro-hydro power generation. In Akita, besides geothermal and micro-hydro generation, wind power generation is also prevalent.
In eight prefectures, the share of renewable energy supply in proportion to energy demand for heat and electricity exceeds 10 percent. As for heat utilization, besides solar thermal, which is widespread in the nation, the use of geothermal energy from sources such as hot springs heat, as well as heat use from woody biomass, have been promoted in each prefecture (see Figure 2).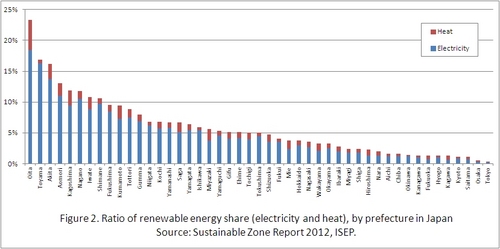 Moreover, a total of 52 municipalities in Japan are estimated to be more than 100-percent self-sufficient in renewable energy. In these areas, surplus electricity generated in existing geothermal, micro-hydro, and wind power plants is supplied to outside the area.
Meanwhile, in urban areas such as Tokyo and Osaka, the proportion of renewable energy supply is much smaller, at less than 1 percent, despite the progress in solar power generation and solar heat use, due to massive energy consumption. However, Kanagawa Prefecture near Tokyo, which includes large cities such as Yokohama, was top-ranked in renewable energy supply per unit area. The reason lies in the trend typical in large cities that need to use limited land effectively. In order to increase renewable energy supply in such areas, it is inevitable for cities to cooperate with the areas where abundant energy sources are available for supply.

Enhancement of Energy Statistics Required
Sustainable energy zones are estimated by calculating present energy demand and renewable energy supply by area. The 2012 report is based on data from fiscal 2010, but with statistical data supplied only by industrial groups, such as the data on solar power generation, it is difficult to estimate present conditions on equipment introduction and total supply by area.
The data on household solar power generation capacity by area, for example, is not publicly available, as it is managed by each power company under the feed-in tariff program started in 2009. As for the amount of electricity generated, the amount of total supply, including each household's own consumption, is not known because of its system of purchasing only surplus electricity; therefore, for its data annual Renewables Status Report, ISEP has to estimate total electricity production, including each household's own consumption, from the capacity at power facilities. Looking at the situation overseas, Germany, which introduced a feed-in tariff program in 2000, has established an institution for compiling renewable energy statistics under the Federal Environment Ministry and releases detailed data every year.
It is expected that statistical data on various renewable energies will be organized and released relating to Japan's feed-in tariff program, which was introduced in July 2012, covering total capacity of all energy production, including from commercial solar power and wind power systems. To properly evaluate achievements of renewable energy expansion in each region, one important task is to enhance renewable energy statistics, by making improvements in the indicator(s) of sustainable energy zones.

Written by Hironao Matsubara, Institute for Sustainable Energy Policies