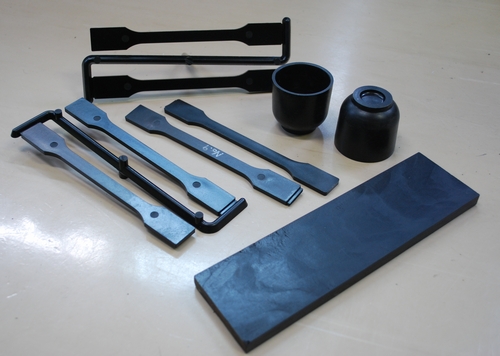 Copyright Nara Forest Research Institute

The Nara Forest Research Institute announced on September 18, 2012, that it has developed a new bioplastic that contains 80 percent bamboo (bamboo powder) content.
Molded plastics made from a kneaded compound of wood powder and thermoplastics such as polypropylene already exist, but due to the low affinity between hydrophilic wood and hydrophobic plastics, wood powders are used only as a bulking filler. Another downside is that wood powder content of as little as 50 percent causes large dimensional changes when humidity varies.
While bamboo grows widely across local regions as a naturally available resource, most is not being used, creating another problem that untended bamboo groves are spreading quickly, especially in western Japan.
At the institute, after being subject to a "superheated steam (low-temperature carbonization)" process at over 200 degrees Celsius, the bamboo is finely crushed and kneaded together with thermoplastic resin and hydrophobized through low-temperature carbonization. The institute has confirmed that a plastic composite containing 80 percent bamboo powder from such a process has (1) better compatibility with thermoplastic, (2) better strength performance, (3) remarkably less water absorption and smaller dimensional change, and (4) better durability. The institute has filed a patent application for this technology together with the National Institute of Advanced Industrial Science and Technology.
Related JFS article:
Fuji Xerox Develops Bioplastic with More than 50% Plant-Derived Material