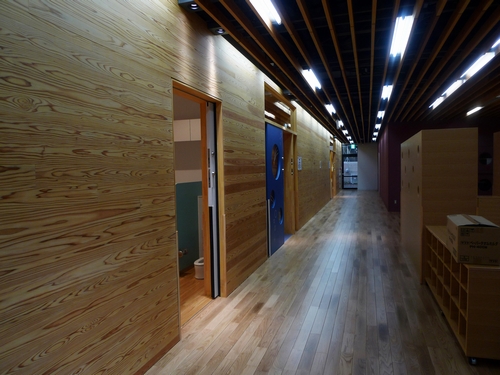 Inside of the Konan 4 Chome Public Office Complex, Minato Ward
Copyright Minato Ward in Tokyo

On April 20, 2012, Minato Ward in Tokyo established a policy to promote use of wood from a sustainable forestry industry for use in public buildings in the ward. Minato is one of 23 special wards of Tokyo and has a population of about 217,000 people. The policy, the first of its kind in any of Tokyo's 23 wards, encourages the use of wood for interiors, furniture, and fixtures in its buildings. As wood and wood products act as carbon dioxide (CO2) sinks during their service life, Minato aims to promote the use of forest products to increase the amount of CO2 sequestration through the use of wood and to support forestry in Japan, thereby contributing further to mitigating global warming.
The policy was set forth in line with the Act for Promotion of Use of Wood in Public Buildings, enacted by the national government in October 2010, and is designed to continue the use of wood materials to help achieve sustainable and sound development of the domestic forest industry, provide adequate forest management, and increase Japan's wood self-sufficiency.
The policy specifies three main features:
(1) Increase the amount of CO2 sequestration by the ward, (2) the timber used must be supplied by the 63 municipalities in the nation that have agreed to ensure reforestation after logging, and (3) the amount of timber used in public buildings must be more than 0.005 cubic meters per square meter of floor area.
Related JFS article:
Shimizu Corp. to Construct First 'Zero-Energy' Building in Japan
Reconnecting Forests and People by Saving Acorns