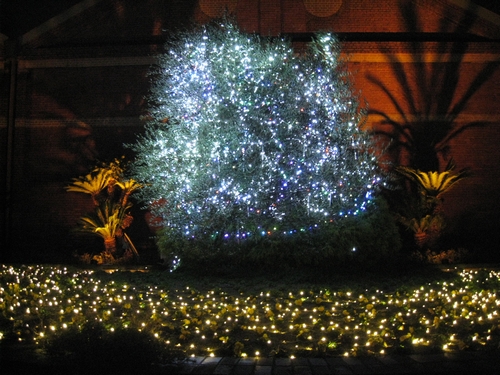 Copyright Kitakyushu City

The city of Kitakyushu in Fukuoka Prefecture has been conducting a trial of tidal power generation since March 2012 in the Kanmon Straits, which have one of the fastest tidal currents in Japan (speeds up to 4.8 meters per second). Tidal current power generation works by rotating blades with the tidal current to generate power, similarly to wind power generation.
The city has set up a test device with a normal rated power output of 1.4 kilowatts at the end of the jetty at Nikka Whisky Distilling Co.'s Moji Factory, which faces the Kanmon Straits, in cooperation with Nikka. The Kyushu Institute of Technology and Kitakyushu National College of Technology et al are also involved in the project.
At the beginning of the test, only the water wheel of the device was rotated to identify problems such as the capture of floating seaweed. After resolving these issues, blades were attached to the generator. As of December 2012, the generator was being operated to collect data on power generation and blade condition, as well as problems. Issues to be resolved were then identified, and have been improved, despite remaining under discussion.
Since December 7, 2012, the generated electric power has been utilized to illuminate a tree and the flowerbeds in front of Nikka Whisky Distilling Co.'s Moji Factory in order to promote public understanding of natural energy. Through this illumination, data on amount of power generated and on the charge cycle of the batteries will be collected until the end of March 2013.
Related JFS article:
City of Kitakyushu Starts Test of Tidal Power Generation in Kammon Straits