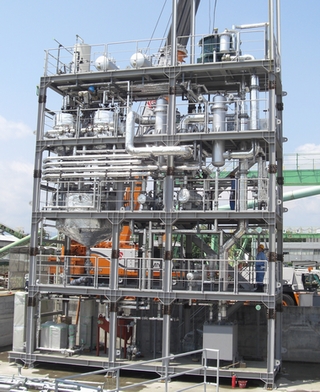 Copyright Maeda Corp.

Maeda Corp., a Japanese general constructor, announced in September 2012 that it had succeeded in a field test at a prototype plant to separate, remove, and collect radioactive a substance in clay minerals or plant cells, which had been difficult to deal with up to now. This is the world's first such technological breakthrough.
The process involves mixing the contaminated materials with water and then using heat and pressure to make the contaminated material in the subcritical state. Releasing the pressure all at once gives it a shock and breaks the material structure, allowing the cesium inside more soluble to escape into the water. The technology, called water-heat blasting, for the first time makes it possible to separate cesium from contaminated materials.
The new technology makes it possible to safely separate and remove cesium contained in fine grains of clay mineral or plant cells. The cesium transferred into the water system can be collected easily with a
coagulation technique using iron ferrocyanide.
At a prototype decontamination plant capable of dealing with about five tons of soil per day, the research team succeeded in removing more than 80 percent of the radioactive cesium in soil similar to contaminated farmland soil, and reduced more than 80 percent of the contaminated soil by volume. The technology is expected to advance efforts to reduce the volume of radioaction-contaminated materials being stored by the national and local governments.
Related JFS article:
National Institute for Environmental Studies Uses Microorganism to Remove Radioactive Cesium
Sunflower Project to Clean Up Radioactive Soil in Fukushima
JA Shin Fukushima Verifies 80% Radioactivity Reduction in Fruit Tree Decontamination Experiment
Greenpeace Discloses Supermarkets' Actions against Radioactively Contaminated Fish