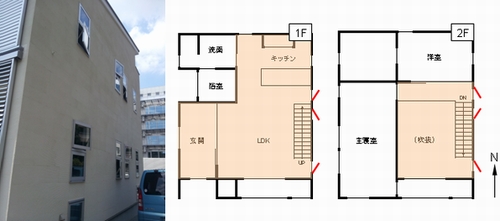 Copyright LIXIL Corporation

On August 23, 2012, LIXIL Corporation, a Japanese manufacturer of building materials and housing equipment, announced the successful joint testing with the University of Tokyo's Institute of Industrial Science of a window and ventilation design that takes advantage of the "wind catcher" effect at their experimental home for energy management, the COMMA House (COMfort MAnagement house). Testing showed that various positions of the windows and the way they opened can result in ten times the amount of ventilation.
Having demonstrated this outstanding performance using the wind catcher effect, the company sees the results as important for designing houses that utilize natural energy more effectively. Particularly, using the wind for better ventilation would improve liveability, especially under a situation like coming home on a hot summer day, when the indoor temperature is higher than outdoors.
Related JFS article:
Mitsubishi Estate Launches Development of Eco Model Building
Fujitsu Makes Farming Know-How Accessible with Farm-Information Sensing Network
Get Inspired by Nature: Showcasing Interesting Examples