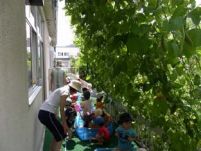 Copyright Sapporo City
On May 2, 2012, the Ministry of Land, Infrastructure, Transport and Tourism (MLIT) released the results of the survey about the effort of local governments to promote "green curtains." The survey revealed that the action is spreading nationwide; about 80% of prefectural and city governments are implementing it and about 90% of government-decreed cities are involved in it.
Green curtains is the approach to save electricity by growing climbing plants such as morning glory and bitter gourd to cover the walls of buildings so that they lower indoor temperatures. It can also be expected to reduce the heat island effect.
Among 231 local governments promoting "green curtains" as of 2011, the most popular approach was to grow the green curtains on public facilities and they also provided materials for green curtains, issued booklets, established websites and held seminars. MLIT hopes that this approach, which is easy for everyone to try, will contribute to getting through the electricity shortage following the Great East Japan Earthquake.
Japan Adapts (and Remembers) Amid Power Shortages after 2011 Great Earthquake, Nuclear Accidents
Posted: 2012/07/14 06:00:15 AM