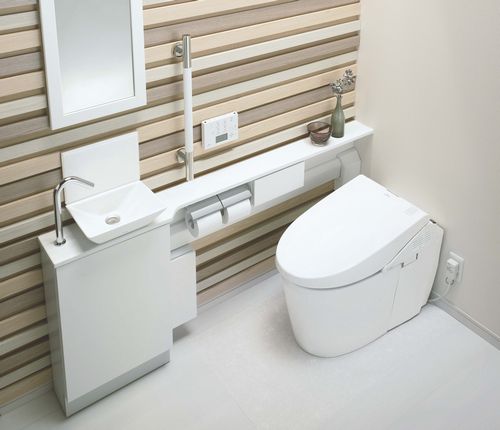 Copyright Toto Ltd.

Toto Ltd., a major Japanese manufacturer of bathroom and kitchen fixtures, released a new line of a water-saving, tankless toilet -- the New Neorest Hybrid series -- on February 1, 2012. The new toilet not only uses less water when it flushes but also cleans itself using a safe antibacterial agent in the water after flushing.
The self-cleaning system performs as follows. Before using the toilet, a mist of water is automatically sprayed on the inside wall of the toilet bowl to avoid staining. After flushing, a mist of antibacterial agent is sprayed automatically. The antibacterial agent contains sodium hypochlorite, which is eco-friendly and safe, as it is made by electrolyzing chloride ions contained in tap water. The self-cleaning function is also carried out every eight hours if the toilet is not used.

The product features a flushing system using a tornado-like water flow, which makes it possible to reduce the volume of water needed for each flush, and water storage system named Hybrid Ecology System, which integrates advantages of water tank as well as direct-flow method that utilize a flow of water directly from the water supply pipe regulated by a flush valve. The whirling water flow can effectively clean the bowl with less water, 3.8 liters for a long flush and 3.0 liters for a short flush, compared with the conventional flush of 4.8 and 4.0, respectively. The bowl's smooth shape without a ledge at the rim also makes it easier to keep the bowl clean. Moreover, the product has a rapid heating system for the toilet seat, which helps to save electricity. With a motion sensor to detect human presence, the seat is heated rapidly, only when the toilet is in use.
INAX Releases New Water Saving Toilet Fixtures for Public Use (Related JFS article)
http://www.japanfs.org/en/pages/028513.html
Posted: 2012/05/05 06:00:15 AM