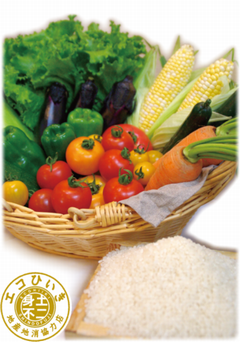 Copyright Hokuto City

Hokuto City in Japan's Yamanashi Prefecture is strengthening efforts to increase consumption of locally grown and environment-friendly products. Its "eco hiiki" program (an original compound word meaning 'eco' and 'to prefer') was named in the hope that serving locally produced foods would also attract more tourists to Hokuto. The city also intends to make its local economy more sustainable by circulating resources locally, and hopes these activities would help the city become the most attractive rural city, with the happiest citizens, in Japan.
Hokuto City's website gives a list of businesses that support local consumption and allows viewers to access maps of restaurants, accommodations, food processing companies, farm stands, and local markets.
The website also provides a wide range of information on businesses at the forefront of this initiative, such as markets that sell bread and confectioneries made from locally grown fruits and other ingredients, wines made with local hot spring water, and restaurants that serve locally branded beef.
[Sustainability College] Bring Out Community Power, Bridge to City
http://www.japanfs.org/en/pages/022684.html
Posted: 2012/02/13 06:00:15 AM