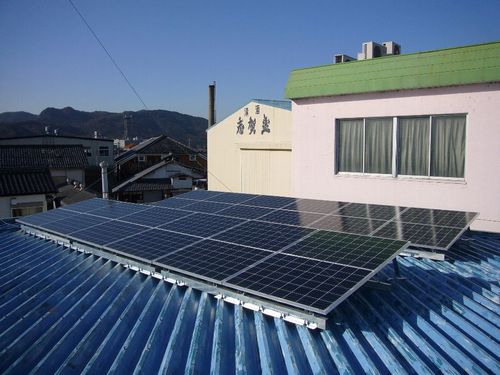 Copyright Higashiomi Community Business Promotion Council

Joint-investment solar power systems have been established with money invested by citizens in Higashiomi in Shiga Prefecture, Japan. The dividends are paid in the form of merchandise coupons which can only be used in a limited geographical region and during a limited time period, with an aim of boosting consumption in the community and stimulating the local economy. This project is being promoted by the Higashiomi Community Business Promotion Council, which took over the project of the New Energy Promotion Meeting in the former Yokaichi City before the municipal merger.
This Higashiomi model project provides people without enough space at home and/or money with an opportunity to effectively participate in solar power generation with a small financial investment, -- 50,000 yen (about US $620) for the No.1 system and 100,000 yen (US $1,230) for the No.2 system. Because the power sales proceeds are distributed to the investors in a form of merchandise coupons valid only in the city during a limited period, the project is also expected to contribute to the development of the local economy.
The Taiyo-no-megumi (blessing of the sun) No.1 system (6 kilowatts) was installed on the rooftop of a building in Youkaichi Yasai Mura in April 2005 and No.2 system of 4.4 kilowatts was installed on
the rooftop of a building of FM Higashiomi Co. in January 2010. In 2008, this project was selected by the Ministry of the Environment as a project for environmental conservation using community funds.

NPO and Citizens Establish Joint Solar Power System (Related JFS article)
http://www.japanfs.org/en/pages/025586.html
Posted: 2011/11/09 06:00:15 AM