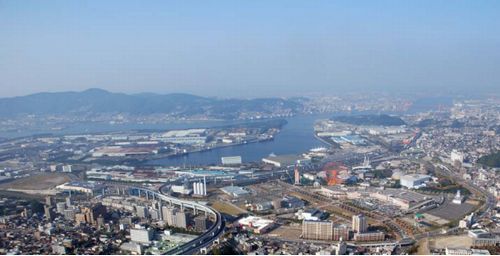 Higashida district : Copyright Kitakyushu City

The city of Kitakyushu in Japan's Fukuoka Prefecture, which aims to be one of the world's leading cities on the environmental theme, will test dynamic pricing of electricity in fiscal 2012. By adjusting the unit price of electricity according to season and time ranges, dynamic pricing can encourage users to save energy by shifting their behavior to reduce electricity consumption at peak times (referred to as peak cut and peak shift). Kitakyushu announced the launch at a meeting of the Next-Generation Energy and Social System Council, on June 23, 2011, organized by the Ministry of Economy, Trade and Industry. The scheme is part of the Kitakyushu Smart Community Creation Project, which the city is conducting from fiscal 2010 to 2014.
With dynamic pricing, prices are determined by multiplying a coefficient based on the supply-demand projection for the next day based on price patterns set for each season and time range at the beginning of the fiscal year. In addition, emergency pricing can be applied for unexpected changes in supply and demand, which can be announced and applied in real time.
The trial is to be conducted in 200 households and 70 offices in the Higashida district, where Nippon Steel Corp. supplies electricity from a 32-megawatt natural gas cogeneration power plant.
Under the Kitakyushu Smart Community Creation Project, the city is to adopt dynamic pricing, install smart meters, and conduct incentive programs and other initiatives. It will also supply 10% of all energy demand in the district with new energy sources such as wind and solar power. Through these projects, Kitakyushu is encouraging households to participate in energy management, aiming to reduce carbon dioxide emissions by 50% compared with other areas in the city. It also aims to keep frequency and voltage fluctuations within a certain range when introducing new energy sources on a large scale.
Four Areas in Japan Begin Own Next-Generation Energy and Social System Projects (Related JFS article)
http://www.japanfs.org/en/pages/030369.html
World's First Community Level Hydrogen Town Project Starts in Kitakyushu (Related JFS article)
http://www.japanfs.org/en/pages/030826.html
Japan's Kitakyushu City Releases Strategic Guidelines for Low Carbon Technology Research and Development (Related JFS article)
http://www.japanfs.org/en/pages/030910.html
Eco-Friendly Condominiums to Reduce Overall CO2 Emissions by 30% (Related JFS article)
http://www.japanfs.org/en/pages/026658.html
Posted: 2011/10/17 06:00:15 AM