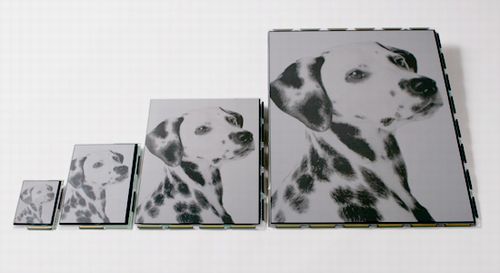 Copyright Bridgestone Corporation

Bridgestone Corporation, world's largest tire and rubber company headquatered in Tokyo, was presented on December 15 the top award in the technological development and commercialization category of the 2010 Environment Minister's Awards for Activities to Fight Global Warming for its newly developed electronic paper display, AeroBee. If the display had been used instead of newspapers and office copies in fiscal 2007 in Japan, it would likely have saved a total of about 15 million tons of paper, contributing to the conservation of 25,000 hectares of forest. Kyocera Corp., a major Japanese manufacturer of electronic components and ceramics, also won an award in the same category for its development and commercialization of large-scale solar batteries for public and industrial use.
Since fiscal 1998, the awards have been given to groups and individuals to honor their outstanding achievements of the year for global warming mitigation, and have been presented in December, Global Warming Prevention Month as designated by the Ministry. Winners in fiscal 2010 included 26 organizations and individuals in five categories.
In the category for the introduction and spread of technology, the Water Department of Osaka Prefecture won the award for its 30-year efforts to supply environmentally friendly tap water in Osaka Prefecture. The department was applauded for having reduced 1,623.3 tons of CO2 emissions annually (the average of the last five years) by installing hydraulic power generation devices at its water treatment plants.
JFS Wins Environment Ministry's Award (Related JFS article)
http://www.japanfs.org/en/pages/026913.html
Posted: 2011/05/10 06:00:15 AM