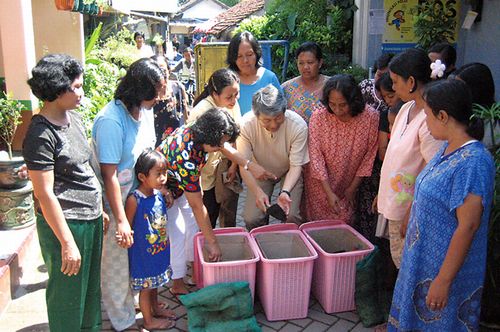 Copyright Kitakyushu Asian Center for Low Carbon Society

Kitakyushu City in Fukuoka Prefecture, an eco-model city selected by the Japanese government, launched the Kitakyushu Asian Center for Low Carbon Society on June 4, 2010, in the Kitakyushu International Association Village Center located in Yahata-Higashi Ward. The center, nicknamed the Asian Green Camp, will serve as a core facility to promote low carbon societies in Asian regions and enhance regional economies.
The center is targeting nations such as the East Asian countries and regions of China, South Korea, Taiwan, and Hong Kong, as well as South East Asian countries and two BRIC countries, India and Russia. It will shoulder responsibility for promoting reductions in carbon dioxide (CO2) emissions by transferring Japan's green technology, training professional personnel, conducting environmental assessments and environmental business surveys, and disseminating study results in these regions.
This low-carbon initiative is supported by the following organizations: the Japan Bank for International Cooperation (JBIC), the Japan International Cooperation Agency (JICA), the Kyushu Recycle and Environmental Industry Plaza (K-RIP) consisting of around 440 individuals, enterprises, and academic institutions related to environmental business, and the Kitakyushu Interdependent Business Consortium for Sustainable Development (KICS). With their support, the center is hoping to establish committees and study groups with the aim of coordinating between related enterprises and constructing a financial support mechanism, as well as an "Asia Eco-City Framework." The center also plans to promote business networking by utilizing the Environmental Working Group of the Organization for the East Asia Economic Development (OEAED) composed of 10 selected cities from Japan, China and South Korea.
Kitakyushu Asian Center for Low Carbon Society official website
http://asiangreencamp.net/eng/
Posted: 2010/09/13 06:00:15 AM