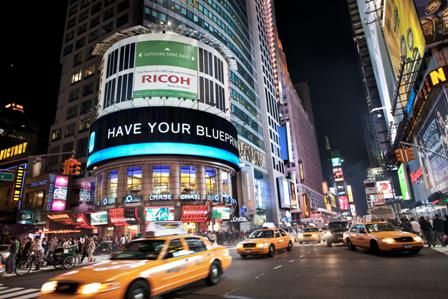 Copyright Ricoh Company

Japanese office equipment supplier Ricoh Company held a ceremony in New York City on June 8, 2010, to celebrate the completion of an eco-powered billboard at Times Square. The billboard is the first of its kind to run solely on clean electricity generated by a photovoltaic power generator and energy stored in batteries.
The billboard was recently completed, following a number of test lightings since April 2009, when construction was partially finished. Equipped with 24 thin solar films on its wall and 62 solar panels on the roof, the eco-friendly billboard can store four days worth of energy supply in the batteries to power the light-emitting diode (LED) bulbs.
According to Ricoh's estimate, the eco-friendly billboard, producing an average of 16kWh of energy per day, will contribute to reducing annual carbon dioxide emissions by two tons. The company also assumes that the billboard might go dark when it cannot secure enough power due to unfavorable weather conditions. Taking a proactive stance toward green energy policies, Ricoh will not apply backup power sources such as fossil energy and readily accepts that the function of the billboard will be compromised in such situations.
Ricoh to Place First 100% Eco-Powered Electronic Billboard in New York's Times Square (Related JFS article)
http://www.japanfs.org/en/pages/029279.html
Ricoh' 'Depending on the Weather' Neon Sign (Related JFS article)
http://www.japanfs.org/en/pages/025348.html
Ricoh: Moving Ideas Forward
http://www.ricoh-eco.com/home.asp
Posted: 2010/08/26 06:00:15 AM