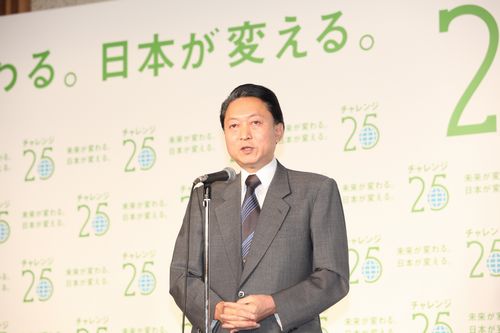 Copyright Minister of the Environment

A nationwide promotional campaign to curb global warming, called "Challenge 25 Campaign," was officially launched on January 14, 2010, at the Prime Minister's official residence. As a make-over of the previous "Team Minus 6%" campaign, this initiative aims to reduce greenhouse gas emissions by 25 percent compared to 1990 levels by 2020.
The campaign widely encourages efforts to reduce carbon dioxide (CO2) emissions by suggesting specific measures that can be implemented at the office and home. Categorized into "Six Challenges," these measures include adopting an eco-conscious lifestyle, selecting energy efficient products, and so on. Companies, organizations and individuals who support the idea can register themselves as "challengers" on the campaign's website.
Prime Minister Yukio Hatoyama gave a speech at the kick-off event, which was attended by numerous actors/actresses and influential people in the business community.
National Campaign Aims to Reduce Individual CO2 Emissions by 1 kg per Day (Related JFS article)
http://www.japanfs.org/en/pages/026830.html
Posted: 2010/03/14 06:00:15 AM